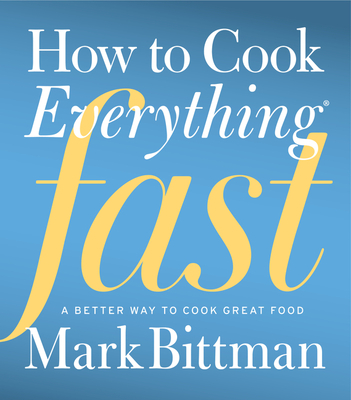 How to Cook Everything Fast
A Better Way to Cook Great Food
Hardcover

* Individual store prices may vary.
Description
Homemade wonton soup in 30 minutes. Chicken Parmesan without dredging and frying. Fruit crisp on the stovetop. The secret to cooking fast is cooking smart—choosing and preparing fresh ingredients efficiently.

In How to Cook Everything Fast, Mark Bittman provides a game plan for becoming a better, more intuitive cook while you wake up your weekly meal routine with 2,000 main dishes and accompaniments that are simple to make, globally inspired, and bursting with flavor.

How to Cook Everything Fast is a book of kitchen innovations. Time management— the essential principle of fast cooking— is woven into revolutionary recipes that do the thinking for you. You'll learn how to take advantage of downtime to prepare vegetables while a soup simmers or toast croutons while whisking a dressing. Just cook as you read—and let the recipes guide you quickly and easily toward a delicious result.

Bittman overhauls hundreds of classics through clever (even unorthodox) use of equipment and techniques—encouraging what he calls "naturally fast cooking"—and the results are revelatory.
There are standouts like Cheddar Waffles with Bacon Maple Syrup (bold flavors in less time); Charred Brussels Sprout Salad with Walnuts and Gorgonzola (the food processor streamlines chopping); Spaghetti and Drop Meatballs with Tomato Sauce (no rolling or shaping); and Apple Crumble Under the Broiler (almost instant dessert gratification).
Throughout, Bittman's commonsense advice and plentiful variations provide cooks with freedom and flexibility, with tips for squeezing in further shortcuts, streamlined kitchen notes, and illustrations to help you prep faster or cook without a recipe.

How to Cook Everything Fast puts time on your side and makes a lifetime of homemade meals an exciting and delicious reality.
Praise For How to Cook Everything Fast: A Better Way to Cook Great Food…
"The prolific Mark Bittman returns with a doorstop whose recipes neatly break down ingredients, prep and cook steps, variations and shortcuts, and suggested sides...Prediction: This book will be a standard gift for new cooks and off-to-college kids." —Scott Mowbray, Cooking Light

"New York Times food writer Bittman returns with his How to Cook series, this time focusing on recipes that consider preparation time. Bittman believes we all have time to cook, we just need better recipes—and he does an excellent job of providing these dishes...At over a thousand pages, Bittman has delivered another brilliant, comprehensive reference."
—Publishers Weekly, starred

"He's been teaching us how to cook delicious food for years, and now Mark Bittman continues the
tradition with a focus on innovative, quick meals. His newest project is so much more than your typical
cookbook; it's a lifestyle guide for reinventing the efficiency with which we eat great food. Mark Bittman
is one of my heroes and everyone can stand to have a copy of his newest book in their collection."
—MARIO BATALI, chef, author, and entrepreneur
 
"In How to Cook Everything Fast, Mark Bittman provides the reader with tools missing in most people's
cooking repertoire: intuition and common sense. Read, cook, and repeat."
—TOM COLICCHIO, chef and owner of Craft Restaurants
 
"Cook AND Fast in the same title? Mark Bittman makes it possible to do both with delicious, healthy
recipes that you can pull together quickly. This should be the go-to cookbook for anyone interested in
returning to preparing real food for themselves and their families."
—KATIE COURIC, global anchor for Yahoo! News and New York Times best-selling author
 
"Who wouldn't like to make life easier in the kitchen? With hundreds of leisurely recipes, tips, methods,
and instructions, Mark Bittman cooks next to you for a faster, effortless, and delicious outcome."
—JACQUES PÉPIN, cookbook author, teacher, and host of numerous PBS-TV cooking series
 
"This is the most user-friendly cookbook for modern-day living I've ever seen. Damn you, Bittman!
Now I have no excuse left to order takeout."
—MEREDITH VIEIRA, award-winning journalist and host of The Meredith Vieira Show
Mariner Books, 9780470936306, 1056pp.
Publication Date: October 7, 2014
About the Author
MARK BITTMAN is the author of more than thirty books, including the How to Cook Everything series and the #1 New York Times bestseller VB6: Eat Vegan Before 6:00 to Lose Weight and Restore Your Health . . . for Good. He was a food columnist, opinion columnist, and the lead magazine food writer at the New York Times, where he started writing in 1984 and remained for more than thirty years.
 
Bittman has starred in four television series, including Showtime's Emmy-winning Years of Living Dangerously. He is a longtime Today regular and has made hundreds of television, radio, and podcast appearances, including on Jimmy Kimmel Live!, Real Time with Bill Maher, and CBS's The Dish; and on NPR's All Things Considered, Fresh Air, and Morning Edition.
 
Bittman has written for countless publications and spoken at dozens of universities and conferences; his 2007 TED talk "What's wrong with what we eat?" has almost five million views. He was a distinguished fellow at the University of California, Berkeley, and a fellow at the Union of Concerned Scientists. He has received six James Beard Awards, four IACP Awards, and numerous other honors.
 
Bittman is currently special advisor on food policy at Columbia University's Mailman School of Public Health, where he teaches and hosts a lecture series. He is also the editor in chief of Heated. His most recent book is his history of food and humanity, Animal, Vegetable, Junk.
Coverage from NPR