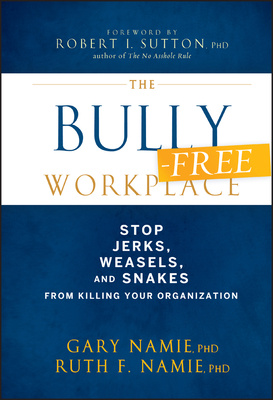 The Bully-Free Workplace (Hardcover)
Stop Jerks, Weasels, and Snakes from Killing Your Organization
Wiley, 9780470942208, 190pp.
Publication Date: May 24, 2011
* Individual store prices may vary.
Description
At long last a guidebook for employers that discusses workplace bullying from America's unrivaled leaders and creators of the workplace bullying consulting institute. Managers will learn how and why to stop bullying; prepare executives to lead the campaign and to resist undermining efforts of subordinates; and create a new, positive role for human resources. Outlining the required steps, The Bullying-Free Workplace includes information on how to create a preventive policy that brings consequences, like never before, when violated. The authors discourage half-hearted, short-term fixes that are prevalent today, and present their signature Blueprint methodology to successfully protect employee health and eradicate the psychological violence from organizations.
About the Author
Gary Namie, PhD, is the senior consultant at Work DoctorInc., a firm established in 1985 and now specializing in workplacebullying. He is a "recovering academic" with extensive experiencein teaching university graduate and undergraduate courses inpsychology and management. He was also a corporate manager for tworegional hospital systems and served as the expert witness in thenation's first "bullying" trial in Indiana, a verdict upheld by thestate supreme court in 2008. Ruth F. Namie, PhD, is a founding consultant for WorkDoctor Inc. and was training director for Sheraton Hotels beforeher clinical training led to helping chemically dependentindividuals and families. Ruth's personal experience was theimpetus for the workplace bullying movement in the United States.She has since become an expert on the devastating effects ofbullying on targeted workers. Her humanizing contributions to theNamie Blueprint are what distinguish it from traditional businesssolutions to violence problems at work.