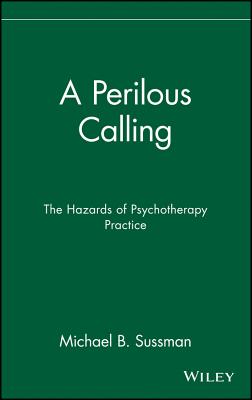 A Perilous Calling
The Hazards of Psychotherapy Practice
Hardcover

* Individual store prices may vary.
Description
What are the consequences of prolonged exposure to the mental andemotional sufferings of others? In what ways can the practice ofpsychotherapy impede a person's ability to form healthy, fulfillingpersonal relationships? Is it true that psychotherapists areunusually prone to mental illness, drug and alcohol abuse, sexualacting out, workaholism, and suicide? Is there something aboutpeople who are drawn to a life in psychotherapy that puts them athigher risk of developing certain behavioral disorders? Now in a candid and revealing look into the private andprofessional lives of psychotherapists, a group of notedpractitioners attempt to answer these and other hard questionsabout the women and men who pursue this most perilous ofcallings. Throughout the pages of this fascinating book, nearly thirtypsychotherapists--including psychologists, psychiatrists, psychoanalysts, and social workers--provide intimate, at timespainfully frank, accounts of their inner experiences and struggles.In a series of compelling first-person narratives, written in avariety of styles, they explore such topics as the therapist'spersonal development and unconscious motivations for becoming atherapist, the emotional impact of clinical work on thepsychotherapist, the stresses and strains that the practice ofpsychotherapy can exert on a marriage, parenting and psychotherapy, disillusionment and the physical and psychic isolation of clinicalwork, the struggles of therapists who suffer from characterologicalproblems of their own, and the extreme perils of dealing withsuicidal patients. They also delve into a number of importantprofessional, ethical, and legal hazards practitioners face in thisage of the medical "quick-fix." A Perilous Calling offers readers unparalleled insight into thepsychotherapist's deepest concerns and conflicts. It reveals theperils of practice and candidly explores how some psychotherapistshave learned to cope with them. In reading this book, professionalswill learn how to take better care of themselves both in theirprofessional and personal lives and will find new ways to transformthose perils into opportunities for growth and mastery. At the sametime, their patients, friends, and loved ones will gain a deeperunderstanding of these complex and uniquely caring individuals.
Wiley, 9780471056577, 332pp.
Publication Date: April 3, 1995
About the Author
About the editorMICHAEL B. SUSSMAN, PsyD, is Clinical Supervisor at Codman Square Health Center, Dorchester, Massachusetts, and a clinical instructor in psychology at Harvard University. Dr. Sussman spent three years (1990 to 1993) as a staff psychologist at Stoney Brook Counseling Center in Chelmsford, Massachusetts, and was a postdoctoral fellow at the Menninger Foundation, from 1988 to 1989. He holds a doctorate in clinical psychology from Hahnemann University, and a bachelor's degree in music composition and performance from Hampshire College. In 1987, he received the Randall B. Weiss Award for compassion and caring in clinical work. Dr. Sussman is also the author of A Curious Calling: Unconscious Motivations for Practicing Psychotherapy.
or
Not Currently Available for Direct Purchase