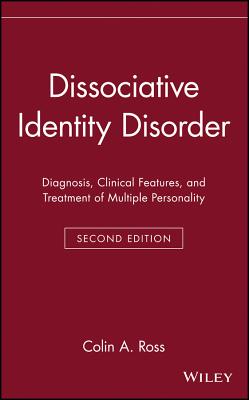 Dissociative Identity Disorder: Diagnosis, Clinical Features, and Treatment of Multiple Personality (Hardcover)
Diagnosis, Clinical Features, and Treatment of Multiple Personality
Wiley, 9780471132653, 464pp.
Publication Date: October 30, 1996
Description
Since the publication of Colin A. Ross's influential work Multiple Personality Disorder in 1989, this challenging field has evolved rapidly--with new thinking, new research, and a new name: dissociative identity disorder (DID). Keeping pace with these developments, this retitled Second Edition has been skillfully revised and expanded to offer a comprehensive, detailed, and fully up-to-date grounding in the history, diagnosis, and treatment of DID.

Readers will find three new chapters covering epidemiology, a sound critique of skeptics of DID, and the problem of attachment to the perpetrator and the locus of control shift. There is also a fresh look at the pathways leading to DID, a discussion of the false memory controversy, and more, with material throughout based on the latest research and the author's extensive clinical and forensic experience.

By providing an in-depth examination of this complex illness, Dissociative Identity Disorder not only facilitates a deeper understanding of people who have used dissociation to cope with years of childhood physical, sexual, and emotional abuse, but also reveals new insights into many other psychiatric disorders in which dissociation plays a role. Like Multiple Personality Disorder, this updated volume is an authoritative and indispensable reference for psychiatrists, clinical psychologists, psychiatric nurses, social workers and other mental health professionals, as well as researchers in these fields.

"Ross provides a comprehensive and interesting account of the history of MPD, dispelling many myths. He presents new insight into the treatment of MPD, with information about such concerns as how to talk to a patient, how to schedule your time, and how to keep your private and professional] lives separate. . . . Multiple Personality Disorder will be an invaluable addition to the reference libraries of sexual abuse clinics, child abuse agencies, and correctional facilities, as well as clinicians." --Family Violence Bulletin.
About the Author
COLIN A. ROSS, MD, is Medical Director of the Dissociative Disorders Program at the Charter Behavioral Health System of Dallas, a private psychiatric facility. In 1995 he formed the Colin A. Ross Institute for Psychological Trauma, which provides education, conducts research, and delivers clinical services with a focus on psychological trauma and dissociative disorders. A past president of the International Society for the Study of Dissociation, he is the author of The Osiris Complex: Case Studies in Multiple Personality Disorder, Satanic Ritual Abuse: Principles of Treatment, and Pseudoscience in Biological Psychiatry.
Advertisement