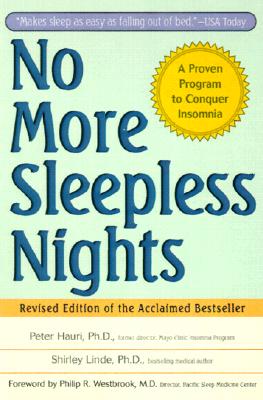 No More Sleepless Nights (Paperback)
Wiley, 9780471149040, 304pp.
Publication Date: August 13, 1996
* Individual store prices may vary.
Description
"The best book this reviewer has seen on insomnia."
--
Library Journal
"Make sleep as easy as falling out of bed."
--USA Today

"At last, an authoritative, sensible book for all those withtrouble sleeping; this is wonderfully written and offers realhelp."
--Rosalind D. Cartwright, Ph.D., Director, SleepDisorder Center Rush-Presbyterian-St. Luke's Medical Center, Chicago

"Nearly everything you always wanted to know about sleep andwhat can go wrong with it . . . with step-by-stepsuggestions."
--Publishers Weekly
This newly revised edition of Dr. Hauri's internationallyacclaimed sleep therapy program offers you much more than helpfulhints. You'll learn what works and what doesn't, ways to evaluatethe latest insomnia treatments, and how to create your owncustomized sleep therapy program. With this easy-to-follow advice, there's no longer any reason to lose precious sleep. Whether yoursleep problem is chronic or occasional, No More SleeplessNights is the best remedy available.
About the Author
PETER HAURI, Ph.D., is the former Director of the MayoClinic Insomnia Program and Codirector of the Sleep DisordersCenter at the Mayo Clinic. Dr. Hauri is considered by many as theworld's leading authority on insomnia. A pioneer in sleep research, he is the founder of the American Sleep Disorders Association. Helives in Rochester, Minnesota. SHIRLEY LINDE, Ph.D., is a bestselling author andcoauthor of thirty books, including Dr. Atkins' Superenergy Diet.She is also a recipient of the Outstanding Service Award from theAmerican Medical Writers Association. She lives in St. Petersburg, Florida.