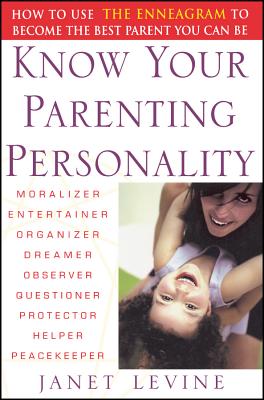 Know Your Parenting Personality
How to Use the Enneagram to Become the Best Parent You Can Be
Paperback

* Individual store prices may vary.
Description
Knowing yourself helps your child Are you a Helper or an Organizer? A Dreamer or an Entertainer? Nomatter which of the personality types on the Enneagram you are, this groundbreaking system gives you the vision to see the world asyour child sees it-and the power to use this vision to achieve allof your parenting goals. Know Your Parenting Personality helps you discover how yourpersonality motivates the way you behave as a parent and how yourchild's personality interacts with your own. As an expert onpersonality, Janet Levine has pioneered a new understanding of theEnneagram based on hundreds of interviews with parents. You'lllearn how to recognize your greatest parenting strengths andweaknesses and how to free yourself to become a true guide andmentor to your child. This invaluable parenting guide helpsyou:
* Establish stronger connections with your child
* Eliminate self-defeating behavior patterns
* Deepen parent--child communication
* Reduce stress in your home
* Gain self awareness and identify your parenting strengths
* Support the flowering of your child's personality Read Know Your Parenting Personality and become the parent youalways wanted to be.
John Wiley & Sons, 9780471250616, 288pp.
Publication Date: February 10, 2003
About the Author
JANET LEVINE, international Enneagram authority and author, has written for publications such as the New York Times Magazine and the Boston Globe. Her previous books include The Enneagram Intelligences: Understanding Personality for Effective Teaching and Learning. Levine is the founder and first president of a professional association of Enneagram teachers.