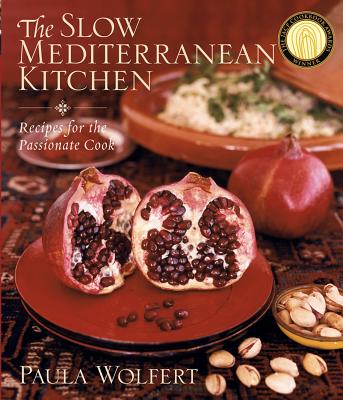 The Slow Mediterranean Kitchen (Hardcover)
Recipes for the Passionate Cook
Houghton Mifflin Harcourt, 9780471262886, 368pp.
Publication Date: September 19, 2003
* Individual store prices may vary.
Description
From one of the leading lights of contemporary gastronomy comes an irresistible collection of slow-cooked, flavor-drenched dishes from the cuisines of the Mediterranean
Who can resist the sensuous delights of a slow-simmered stew, salmon fillet slow-roasted until it is soft as silk, or leg of lamb braised until it is meltingly tender? Slow cooking is the hottest new trend in food, and no one better captures the art of sumptuous, unhurried cooking than renowned food writer Paula Wolfert. In The Slow Mediterranean Kitchen, she returns to her favorite culinary regions and shares an enticing treasure trove of more than 150 authentic recipes that wend their way from North Africa and the Eastern Mediterranean to Italy, Spain, and the South of France. With her trademark passion for detail and curiosity about cultural traditions and innovations, she offers loyal fans and new converts the secrets to simmering, slow roasting, braising, poaching, and marinating their way to flavor-drenched dishes that capture the enchanting tastes and aromas of the Mediterranean table. Perfect for anyone who loves to cook, this rich resource is a must-have for the bookshelf of everyone who is serious about food.
Paula Wolfert (Sonoma, CA) is widely acknowledged to be the premier food writer in America. Her writing has received many awards, including the Julia Child Award, the M.F.K. Fisher Award, and the James Beard Award. She has a regular column in Food & Wine magazine, and her articles have appeared in such major publications as the New York Times, Saveur, Bon App?tit, and Cook's Illustrated. She is the author of six other cookbooks, including Couscous and Other Good Food from Morocco, Mediterranean Cooking, and The Cooking of South-West France.
About the Author
PAULA WOLFERT is an expert on Mediterranean food and the author of seven other cookbooks, including Mediterranean Cooking, The Slow Mediterranean Kitchen, and The Cooking of Southwest France. Her work has received the Julia Child Award, the M. F. K. Fisher Award, the James Beard Award, the Cook's Magazine Platinum Plate Award, and the Perigueux Award for Lifetime Achievement. In 2008, the James Beard Foundation inducted her work into the Cookbook Hall of Fame. A regular columnist for Food & Wine magazine, Wolfert lives in Sonoma, California. Her Web site is www.paula-wolfert.com. Her fans can also follow her via her Facebook/Clay Pot Cooking page and on twitter.com/Soumak.
Praise For The Slow Mediterranean Kitchen: Recipes for the Passionate Cook…
"...slow down, try any of these...recipes, and recapture the special flavors of North Africa or Spain, Greece or Italy." (
Associated Press
, July 9, 2004)
Mediterranean cooking expert Wolfert invites readers to sit back and relax, in this, her eighth book (the first has been in print for 30 years)—a charming paean to the kinds of foods that require time to prepare, but are worth the wait. That doesn't mean these are complicated recipes. In fact, most are paragons of the simplicity and highlighting of flavors that have made Mediterranean cooking so popular. Dishes such as a classic Cassoulet use long periods in the oven to produce meltingly soft meat. The dough for Turkish Flatbread Stuffed with Melted Cheese needs to rise overnight, but is produced in a food processor with little effort. A chapter on soups celebrates simmer-it-and-forget-it dishes such as Turkish Red Lentil Soup with Paprika and Mint Sizzle and Mediterranean Marinated Fish Soup, which calls first for soaking fish filets in a mixture of Pernod, wine, thyme and garlic, then covering them with hot broth to cook off any residual rawness. Other recipes simply need to sit for their flavors to meld, as is the case with Cypriot Fresh Fava Bean and Purslane Salad and El Churrasco's Gazpacho with Pine Nuts and Currants. Wolfert does her us ual practiced job of seeking out unusual flavors in all corners of the Mediterranean, such as a Butternut Squash and Potato Pie with Tomato, Mint, and Sheep's Milk Cheese from Crete, and providing interesting historical background, like the headnote for Seven-Hour Garlic Crowned Lamb, a recipe culled from a 1929 cookbook of the foods of France's Perigord region. (Sept.)
Forecast: Wolfert has become the brand name for Mediterranean cooking, and this polished effort should sell well on the basis of name recognition and general excellence. The only possible impediment is its title and subtitle, which may scare off potential buyers who fear overly complicated recipes or even give the impression that these recipes require a slow cooker. (Publishers Weekly, August 4, 2003)
In her many previous books (e.g., the now classic Couscous and Other Good Foods from Morocco), Wolfert wrote about the Mediterranean lifestyle, and here she seeks to recapture that way of life whose "friendly but voluptuous eating experiences" are no longer so easy to find, regrettably. To that end, she offers recipes intended to be both satisfying to prepare and delicious to eat, homey and comforting dishes from all the countries of the region: brodetto Pasquale (Italian Easter Lamb Soup), Expatriate Roast Chicken with Lemon and Olives from Morocco, and Catalonian Fall-Apart Lamb Shanks. Although many recipes call for braising, stewing, and other techniques of long cooking, others are not limited to those techniques, for Wolfert's definition of slow cooking also encompasses marinating and similar technique - i.e., cooking that requires forethought but not necessarily hours at the stove: Overnight Gorgonzola with Saba Spread, for example, or Mediterranean Marinated Fish Soup, prepared in btwo stages. Slow-cooked food has become popular with home cooks and restaurant diners alike, and Wolfert's celebration of the pleasures of that approach with its dozens of delicious and unusual recipes, is highly recommended. (Library Journal, September 15, 2003)
If you buy only one cookbook this year, make it this one. Written by one of the reigning queens of culinary craft, its subtitled "Recipes for the Passionate Cook." The dishes featured may take time in the oven, but they're refreshingly simple given the astoundingly flavorful results. (Metropolitan Home, November 2003)
I defy a passionate cook (or a passionate cookbook collector) to resist The Slow Mediterranean Kitchen, Paula Wolfert's newest (Wiley; $34.95). It looks almost edible: the cover with its spilled seeds of the pomegranate, the apple Eve probably passed on to Adam, the sensuous photographs. As all her pals know, the woman is a fanatic, a passionate pilgrim to faraway kitchens no matter how primitive, a champion of indigenous ingredients. But authenticity is never enough for Paula. If it isn't delicious, it isn't in her books. And she's there, too, urging you on, passing along little tricks, enticing you to the stove. I can't wait to taste salmon poached in olive oil with rhubarb, cucumber, and mint salad, or the sesame-studded tomato jam. Her slow-cooked duck with olives has the crisp skin and melting interior of a confit but needs no time to mellow. And word on the pastry circuit is that her classic canelés de Bordeaux-lush custard inside a burn-sugar shell-are a revelation. (New York, October 27, 2003)
Quick and easy may rule the day even in Rome, but in The Slow Mediterranean Kitchen, Paula Wolfert celebrates a more leisurely way of cooking. Her carefully written recipes do require patience, effort, and the occasional uncommon ingredient (Wolfert thoughtfully provides mail-order and Internet sources). But anyone craving the unparalleled flavors that slow cooking coaxes from ingredients will be amply rewarded for his or her time. (Fine Cooking, January 2004)
"Already a classic, this book is full of lusty Mediterranean dishes you can eat with abandon." (New York Post, January 7, 2004)
Since the publication, 30 years ago, of Couscous and Other Good Food from Morocco, Paula Wolfert has been a precise, ardent student of cooking from Toulouse to Tunisia, and it is in large part due to her steady efforts that American cooks have tagines in their cupboards and preserved lemons in their larders.
Here, however, in this delightful, wandery book, she relaxes. This time around, the cook's cook-who spelled out in the indispensable Cooking of South-West France labyrinthine methods of confit and cassoulet-proffers, among many other good things (a quick confit and a labor-intensive recipe for those glorious pastries the French call canelés de Bordeaux), toast: grilled, browned, homely, and sublime, made with bread left out to dry. For a simple starter, toast is rubbed hard with ripe tomato and drizzled with olive oil ("pure heaven") or spread with thin-sliced avocados and sardines (a recipe from the Canary Islands). It's the base for myriad soups, including kale and black pepper soup from Siena and Easter lamb soup with marjoram and lemon.
What is more basic than toasted bread dunked in soup? Ease reigns, erudition is taken for granted. To augment these offerings, on which one could dine happily for a month of Sundays, dishes include a splendid ragout of artichokes cooked in a wine sauce spiked with orange zest, diced pancetta, and thyme; pork stew with prunes and onions simmered in olive oil enlivened with cinnamon; and slow-roasted chicken with sausage and porcini dressing. Voilà: supper for two, or four, or, as these recipes easily multiply, for ten.
"There are many slow recipes in my other books, but this is the first time I have fastened upon 'slow' as a theme," Wolfert writes. The word slow has lately become a catchword (I have on my desk three recent cookbooks that incorporate it). "Slow" dishes, she tells us, can be prepared in advance and are the opposite of fast food in that flavor is slowly coaxed from leeks and legumes or even fish (as in Wolfert's slow oven-steamed salmon).
Of course, pots have been left to simmer on the back of the stove since time immemorial. The difference between this particular book and a slew of others is Wolfert herself: decisive, imaginative, and well versed. She writes for home cooks who know their way around the kitchen and are ready to try something new, or at least newish: sesame-studded tomato jam or Sephardic oven-roasted eggs (baked for five hours). It's also for cooks who know, as she does, that cooking is really about having something good to eat when you're hungry, and, more often than not, that what's wanted is just a bit of something delicious. On toast. (Gourmet, February 2004)
"It is not likely that anyone outside Morocco knows more about that country's cooking than Paula Wolfert," (The New York Times, February 25, 2004)
or
Not Currently Available for Direct Purchase