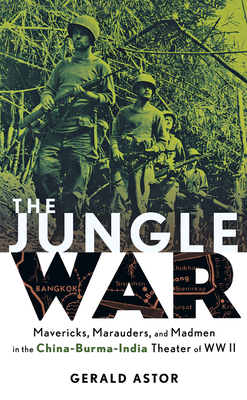 The Jungle War (Hardcover)
Mavericks, Marauders and Madmen in the China-Burma-India Theater of World War II
Wiley (TP), 9780471273936, 392pp.
Publication Date: July 1, 2004
* Individual store prices may vary.
Description
Praise FOR Gerald Astor ""No one does oral history better than Gerald Astor. . . . Great reading.""
-Stephen Ambrose on The Mighty Eighth ""Gerald Astor has proven himself a master. Here, World War II is brought to life through the hammer blows of their airborne triumphs and fears.""
-J. Robert Moskin, author of Mr. Truman's War, on The Mighty Eighth ""Astor captures the fire and passion of those tens of thousands of U.S. airmen who flew through the inferno that was the bomber war over Europe.""
-Stephen Coonts on The Mighty Eighth ""Oral history at its finest.""
-The Washington Post on Operation Iceberg ""Quick and well-paced, this will please even the most jaded of readers.""
-Army magazine on Battling Buzzards ""A stout volume by a distinguished historian of the modern military makes a major contribution on its subject.""
-Booklist on The Right to Fight (starred Editor's Choice) ""Today, as we lose the veterans of World War II at an alarming rate, we must not lose sight of their sacrifices or of the leaders who took them into battle. Astor, an acclaimed military historian, provides an in-depth look at one of the war's most successful division combat commanders, Maj. Gen. Terry Allen. . . . This well-written portrait makes for enjoyable reading.""
-Library Journal on Terrible Terry Allen.
About the Author
Gerald Astor, a former magazine editor and writer, has published twenty previous books, including A Blood-Dimmed Tide: The Battle of the Bulge by the Men Who Fought It; June 6, 1944: The Voices of D-Day; and The Mighty Eighth: The Air War in Europe as Told by the Men Who Fought It.