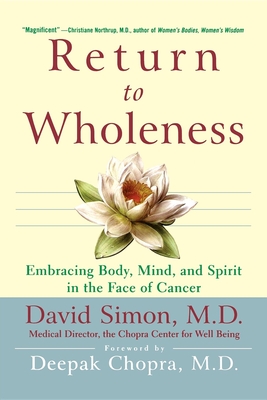 Return to Wholeness (Hardcover)
Embracing Body, Mind, and Spirit in the Face of Cancer (Wiley Audio)
Wiley, 9780471295778, 288pp.
Publication Date: January 1, 1999
Other Editions of This Title:
Paperback (12/1/1999)
Paperback, Spanish (3/1/2003)
* Individual store prices may vary.
Description
Beautiful. . . . If you are facing cancer or any other serious illness, I encourage you to allow the wisdom contained within these pages to nurture, guide, and support you.-Deepak Chopra, M.D., from his foreword Return to Wholeness is a revelation. David Simon breaks new ground with the innovative, holistic mind-body approaches developed at the Chopra Center for Well Being. The guiding theme in this book is wholeness, as Dr. Simon demonstrates to readers the value of integrating the best of traditional and alternative medicines with ancient Eastern, Ayurvedic principles and practices in order to forge the most effective path to wellness. Return to Wholeness features advice and recommendations on every aspect of living with illness, including designing a simple nutritional program to purify, rejuvenate, and provide balance; benefiting from the healing properties of vitamins, minerals, phytochemicals, and herbs; facing the toll exacted by chemotherapy and other medical techniques; incorporating various kinds of meditation, creative visualization, and aromatherapy into the larger Return to Wholeness program; and weathering emotional cycles through art therapy, journaling, laughter, and music. ""Return to Wholeness is magnificent. Reading this book made me feel embraced and uplifted by all that is healing and true. Return to Wholeness should be kept on the nightstand of everyone who has cancer or another illness or who is afraid of becoming ill."" - Christiane Northrup, M.D. author of Women's Bodies, Women's Wisdom ""Return to Wholeness is the perfect book for anyone facing the diagnosis of cancer. . . . Powerful, powerful teachings you will not read elsewhere from a medical doctor."" -Wayne Dyer, Ph.D., author of Manifest Your Destiny ""Gentle, compassionate, and yet thorough . . . a book that awakens the inner healer in all of us."" - Louise L. Hay, author of You Can Heal Your Life ""An excellent source of information and guidance to help one integrate one's life and approach to cancer.""
-Bernie S. Siegel, M.D., author of Love, Medicine, and Miracles ""In every great challenge of life, we need guides who can show us the way. Dr. David Simon is a wise, compassionate physician who can help anyone on the journey through the experience of cancer."" -Larry Dossey, M.D. author of Prayer Is Good Medicine and Healing Words.
About the Author
DAVID SIMON, M.D., is Medical Director of the Chopra Center for Well Being. He was formerly chief of staff at the Sharp Cabrillo Hospital in San Diego and is a frequent speaker throughout the country.