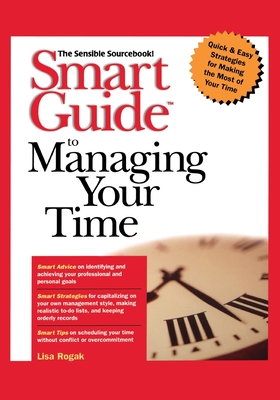 Smart Guide to Managing Your Time (Smart Guides) (Paperback)
Wiley, 9780471318866, 192pp.
Publication Date: March 8, 1999
* Individual store prices may vary.
Description
An all-you-need-to-know introduction to time management--startingyou on the Smart path to a well-balanced and fulfilling life
* Smart Advice on how a series of surprisingly simple lifestylechanges can truly liberate your overloaded daily schedule
* Smart Strategies for coping with information overload atwork--how to negotiate and prioritize the overwhelming demands ofnonstop meetings, correspondence, presentations, and deadlines
* Smart Tips on identifying and modifying your particularmanagement style--maximizing strengths, minimizing short-comings, and ensuring lasting change
* Smart Information on using time-saving computer programs anddaily planners to help clear a path through all the clutter
* Quick reading and easy referencing with a comprehensive index andloads of sidebars and tables.
About the Author
Lisa Rogak is the owner and publisher of Williams Hill Publishers. The author of more than 25 books, Ms.Rogak has been featured on The Oprah Winfrey Show and in USA Today. She lives in Grafton, New Hampshire.