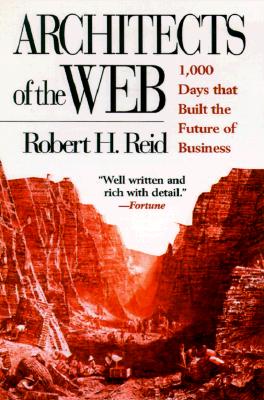 Architects of the Web (Paperback)
1,000 Days that Built the Future of Business
Wiley, 9780471325734, 432pp.
Publication Date: February 1, 1999
* Individual store prices may vary.
Description
"A terrific book that captures the explosion of creativity and business evolution at the center of the Internet phenomenon. A tantalizing mix of diverse players with utopian visions, animated by equal parts aggression and delight. A true saga of our time."-James F. Moore author, The Death of Competition; Chairman, Geo Partners Research Inc.



Architects of the Web presents the dynamic history of the Web's creation and evolution-as well as its emergence as a dynamic business tool-through revealing profiles of its architects, the brilliant minds who have helped thrust the Web onto desktops and corporate agendas around the world. A diverse, ambitious group, the architects of the Web are:

* Marc Andreessen, Netscape

* Ariel Poler, I/PRO

* Rob Glaser, Progressive Networks Andrew Anker, HotWired

* Kim Polese, Marimba

* Halsey Minor, C/NET

* Mark Pesce, VRML

* Jerry Yang, Yahoo!
About the Author
Before writing this book, ROBERT REID worked at Silicon Graphics (SGI), a $2 billion maker of supercomputers, workstations, and servers. There, he managed his company's relationship with Netscape (which was cofounded by SGI's own founder, Jim Clark). He now works at Twenty-Firs t Century Internet, a venture capital fund headquartered in San Francisco. Mr. Reid is a graduate of Stanford University, holds an MBA from Harvard University, and lives in Mountain View, California.
or
Not Currently Available for Direct Purchase