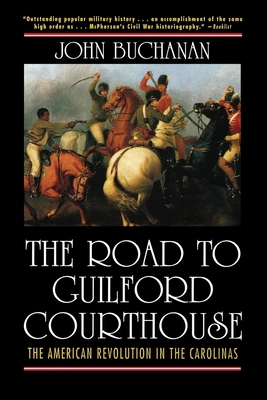 The Road to Guilford Courthouse (Paperback)
The American Revolution in the Carolinas
Wiley, 9780471327165, 464pp.
Publication Date: July 1, 1999
Other Editions of This Title:
Hardcover (7/1/1999)
* Individual store prices may vary.
Description
A brilliant account of the proud and ferocious American fighters who stood up to the British forces in savage battles crucial in deciding both the fate of the Carolina colonies and the outcome of the war. ""A tense, exciting historical account of a little known chapter of the Revolution, displaying history writing at its best.""--Kirkus Reviews ""His compelling narrative brings readers closer than ever before to the reality of Revolutionary warfare in the Carolinas.""--Raleigh News & Observer. ""Buchanan makes the subject come alive like few others I have seen."" --Dennis Conrad, Editor, The Nathanael Greene Papers. ""John Buchanan offers us a lively, accurate account of a critical period in the War of Independence in the South. Based on numerous printed primary and secondary sources, it deserves a large reading audience."" --Don Higginbotham, Professor of History, University of North Carolina, Chapel Hill.
About the Author
JOHN BUCHANAN is a popular historian who was an archivist at Cornell University and The Metropolitan Museum of Art. During his nearly three decades on the staff of the museum, he was, for twenty-two years, chief registrar in charge of worldwide art movements. He lives with his wife in New York City.