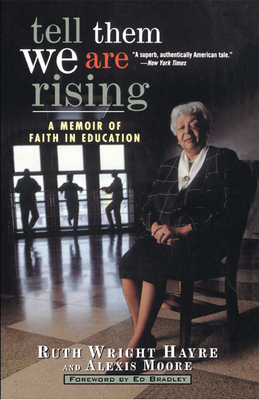 Tell Them We Are Rising (Paperback)
A Memoir of Faith in Education
Wiley, 9780471327226, 224pp.
Publication Date: January 1, 1999
Other Editions of This Title:
Hardcover (1/1/1999)
* Individual store prices may vary.
Description
tell them we are rising ""The inspiring story of how one woman gave back.""--Ed Bradley ""This is a heartwarming story about struggle, survival, and achieve ment. If we didn't know people like this in our lives, we would want to invent them. What more could one ask? A good story told with a deft hand.""--William H. Gray III President, United Negro College Fund ""An inspiring account of an African American educator determined to make a difference in the lives of indifferent students.""--Kirkus Reviews ""Tell Them We Are Rising is a wonderful, inspiring story of service, commitment, generosity, love, and hope. It is written with the humor, wisdom, and grace of a bygone era, yet spiced with the ultramodern savvy and the future-oriented vision of a twenty-year-old. What an extraordinary woman What an extraordinary life ""--Chaka Fattah U.S. Representative (Pennsylvania)
About the Author
RUTH WRIGHT HAYRE (1910-1998) was the first full-time African American teacher in the Philadelphia public school system, the first African American senior high school principal, and the first female president of the Philadelphia Board of Education. For her advocacy programs in support of urban teenagers in Philadelphia, Ms. Hayre received honors and awards from dozens of local and national organizations, including the University of Pennsylvania and the NAACP.

ALEXIS MOORE is a journalist and a member of the editorial board of the Philadelphia Inquirer.