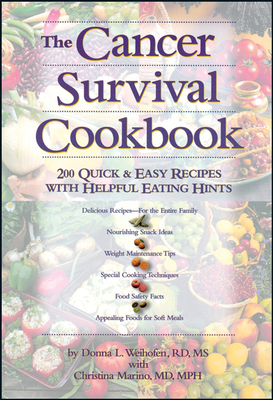 The Cancer Survival Cookbook (Paperback)
200 Quick and Easy Recipes with Helpful Eating Hints
Houghton Mifflin Harcourt, 9780471346685, 312pp.
Publication Date: November 6, 1997
* Individual store prices may vary.
Description
Fight Cancer With Food
Eating well and maintaining weight are crucial factors in cancer recovery. But when you have cancer, you often don't feel like eating. The medications can make you nauseated, radiation can make your mouth sore, you can lose your taste from the disease or treatments, and the emotional upset can reduce your desire to eat.
There's hope, though. You do not have to exist on baby food or bland crackers when you are going through chemotherapy or radiation therapy. Instead, use this book and rediscover the pleasure, comfort, and healing power of eating.
The Cancer Survival Cookbook offers nourishing recipes and practical suggestions to help in you recovery. Not only are the 200 nourishing meals, side dishes, snacks and desserts tasty and easy to make, but many feature simple options to add calories or other nutrients according to your needs. These unique tips for customizing recipes make them healthy choices the whole family can enjoy.
This innovative book also includes extensive advice on overcoming specific eating problems such as nausea, appetite loss, and diarrhea, trustworthy information on herbal remedies, and appealing recipes for those who need soft diets.
"Donna Weihofen doesn't accept the idea that people with cancer should be limited in what they can eat. She made it possible for me to not only enjoy eating again, but to enjoy a variety of foods. I've been able to put on weight and I feel better"
—Pat Syverud, cancer survivor
About the Author
CHRISTINA MARINO, MD, MPH, is a cancer survivor and has been active in cancer prevention and control in private practice and research. She hasalso been professionally trained in the culinary arts at L'Academie de Cuisine in Bethesda, Maryland.
DONNA WEIHOFEN, RD, MS, is a nutritionist at the renowned University of Wisconsin Comprehensive Cancer Center, and has helped hundreds of patients fight cancer nutritionally.