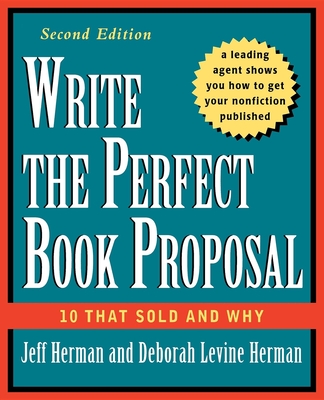 Write the Perfect Book Proposal (Paperback)
10 That Sold and Why
Wiley (TP), 9780471353126, 213pp.
Publication Date: May 1, 2001
* Individual store prices may vary.
Description
Want to publish your book? Learn how--it's easier than you think Charismatic authors and literary agents Jeff Herman and Deborah Levine Herman have successfully sold hundreds of titles and learned--through trial and error--how to write a flawless book proposal that publishers can't resist. Now you can benefit from their hard work and publishing savvy. In this new edition, they offer guidance and advice that will inspire, educate, and, most importantly, give you the necessary edge to get your book published. They explain: * How to shape your idea and create a title * Ways to get to know the market and competition * Tips on writing an effective outline, query letter, and sample chapter * The art and science of fiction and nonfiction book proposals * How ten actual proposals (included here) were successfully sold to publishers--and why ""A submission from Jeff Herman always gets moved to the top . . . his new book will show you how to move to the top.""--Frederic W. Hills Vice President, Simon & Schuster ""This book will take writers to the highest level of proposal writing and success.""--Roger Cooper Quality Paperback Book Club ""If you want your proposal to ignite a busy editor's interest, read this book.""--Adrienne Hickey Senior Acquisitions Editor, AMACOM Books.
About the Author
JEFF HERMAN is president of his own very successful literary agency and has been profiled in Success, Entrepreneur, and Publishers Weekly. His Web site is www.jeffherman.com.

DEBORAH LEVINE HERMAN is an attorney, a literary agent, a writer, and a proficient "proposal doctor."