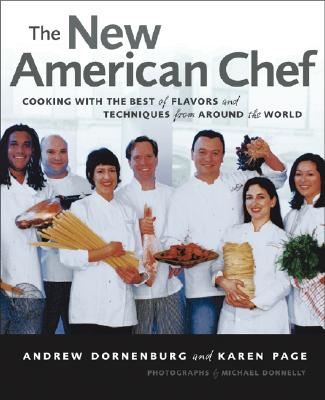 The New American Chef (Hardcover)
Cooking with the Best of Flavors and Techniques from Around the World
Wiley, 9780471363446, 448pp.
Publication Date: November 5, 2003
* Individual store prices may vary.
Description
America's leading authorities on ten influential cuisines offer amaster class on authentic flavors and techniques from around theworld
Today's professional chefs have the world to use as their pantryand draw freely on a global palette of flavors. Now AndrewDornenburg and Karen Page bring together some of the foremostculinary authorities to reveal how to use different flavors andtechniques to create a new level of culinary artistry. MarioBatali, Daniel Boulud, Alain Ducasse, Paula Wolfert, and manyothers share the foundations of ten influential cuisines:
* Japanese
* Italian
* Spanish
* French
* Chinese
* Indian
* Mexican
* Thai
* Vietnamese
* Moroccan
Packed with information, ideas, and photographs that will inspireevery cook, The New American Chef shares a mouthwatering array ofnearly 200 authentic recipes, including Honey Spare Ribs fromMichael Tong of Shun Lee Palace, Gazpacho Andaluz from Jos Andr's of Jaleo, and Steamed Sea Bass with Lily Buds fromCharles Phan of The Slanted Door.
About the Author
Called "the brightest young author team on the culinary scenetoday" on NPR, ANDREW DORNENBURG and KAREN PAGE are the James BeardAward?winning authors of Becoming a Chef, Culinary Artistry, DiningOut, and Chef's Night Out. They live in New York City and can be found online atwww.newamericanchef.com. Michael Donnelly is a New York?based photographer whose work hasappeared in Gourmet, House & Garden, Travel & Leisure, andthe World of Interiors.
or
Not Currently Available for Direct Purchase