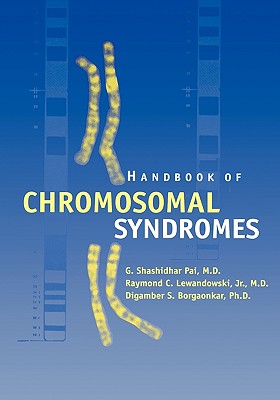 Handbook of Chromosomal Syndromes (Hardcover)
Wiley-Liss, 9780471372172, 376pp.
Publication Date: November 11, 2002
* Individual store prices may vary.
Description
Consisting of more than 200 chromosomal aneuploidy syndromes, theHandbook Chromosomal Syndromes is the up-to-date reference to focusexclusively on clinical syndromes due to chromosomal abnormalities.For each syndrome, easy-to-use guide offers a complete descriptionof clinical presentation, with illustrations, as well asinformation on behavioral aspects, life expectancy, diagnosis, andcytogenetics. Features of the text include:
- A section devoted to the nomenclature of chromosomeabnormalities
- Pictorial material suitable to be shown to patientpopulations
- Descriptions of the phenotype in tabular and text form forquick and easy reference
- Ideograms for each entry
- A list of key references.
About the Author
Dr. Digamber S. Borgaonkar obtained his Ph.D. degree in genetics from Oklahoma State University. He joined the Division of Medical Genetics at Johns Hopkins University School of Medicine as Director of the Chromosome Laboratory in 1964. Dr. Borgaonkar initiated the Chromosomal Variation in Man database www.wiley.com/borgaonkar at Johns Hopkins in 1974. He was later appointed human medical geneticist for the State of Delaware.Dr. G. Shashindhar Pai has been an active teacher, practitioner and researcher of clinical genetics for more than 25 years. The author of nearly 100 papers relating to clinical genetics and cytogenetics, Dr. Pai currently serves on the faculty of the Division of Genetics at the Medical University of South Carolina.Dr. Raymond Lewandowski is at the Center for Genetic Services in Corpus Christi, Texas.