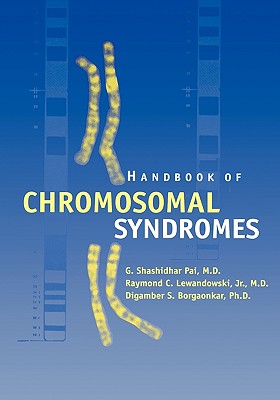 Handbook of Chromosomal Syndromes (Hardcover)
Wiley-Liss, 9780471372172, 376pp.
Publication Date: November 11, 2002
* Individual store prices may vary.
Description
In the past, medical researchers and practicing clinicians have lacked a single, comprehensive resource on chromosome disorders, the cause of a wide variety of growth abnormalities and miscarriages. As new syndromes are being defined and known syndromes better described, patients with chromosomal abnormalities and their families are making greater demands on professionals for more extensive information. Consisting of more than 200 chromosomal aneuploidy syndromes, the Handbook of Chromosomal Syndromes is the most up-to-date reference to focus exclusively on clinical syndromes due to chromosomal abnormalities.
This fully illustrated guide is ideal for clinicians to use as a ready reference and for treatment and counseling of families and expectant parents facing abnormal prenatal tests. For each syndrome, this easy-to-use guide offers a complete description of clinical presentation, with illustrations, as well as information on behavioral aspects, life expectancy, diagnosis, and cytogenetics. Features of the text include:
* A section devoted to the nomenclature of chromosome abnormalities
* Pictorial material suitable to be shown to patient populations
* Descriptions of the phenotype in tabular and text form for quick and easy reference
* Ideograms for each entry
* A list of key references
Practicing clinicians-including primary care providers, pediatricians, and obstetricians-genetic counselors, researchers, and clinical and medical geneticists will find the Handbook of Chromosomal Syndromes to be an indispensable resource.
About the Author
Dr. Digamber S. Borgaonkar obtained his Ph.D. degree in genetics from Oklahoma State University. He joined the Division of Medical Genetics at Johns Hopkins University School of Medicine as Director of the Chromosome Laboratory in 1964. Dr. Borgaonkar initiated the Chromosomal Variation in Man database www.wiley.com/borgaonkar at Johns Hopkins in 1974. He was later appointed human medical geneticist for the State of Delaware. Dr. G. Shashindhar Pai has been an active teacher, practitioner and researcher of clinical genetics for more than 25 years. The author of nearly 100 papers relating to clinical genetics and cytogenetics, Dr. Pai currently serves on the faculty of the Division of Genetics at the Medical University of South Carolina. Dr. Raymond Lewandowski is at the Center for Genetic Services in Corpus Christi, Texas.