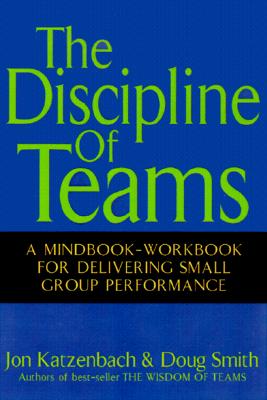 The Discipline of Teams (Hardcover)
A Mindbook-Workbook for Delivering Small Group Performance
Wiley, 9780471382546, 256pp.
Publication Date: April 20, 2001
* Individual store prices may vary.
Description
An essential guide for any small group that must deliver team performance. With the demand for project-oriented work and faster, more nimble responses, successful small-group performance is more crucial than ever. Katzenbach and Smith, authors of the international bestseller The Wisdom of Teams, have again joined forces, revealing how to implement the disciplines, frameworks, tools, and techniques required for team- and small-group performance. Combining their insights and practical strategies, they offer concepts and pragmatic, doable exercises for team leaders and team members to deliver results. Hot topics covered include: why small-group performance demands expertise at two disciplines, team level and leader level, instead of one; virtual teams; and global teams. This book combines practical exercises with cutting-edge insights, and both authors are authorities on the subject. Attend a featured author workshop at the 13th International Conference on Work Teams: Collaborating for Competitive Advantage, September 23-25, 2002, in Dallas, TX. For information, contact the Center for the Study of Work Teams at 940 565 3096 or visit them online at www.workteams.unt.edu.
About the Author
Jon R. Katzenbach is a senior vice president of Booz & Company, where he founded the Katzenbach Center. Previously, he was the founder and senior partner of Katzenbach Partners and a former director of McKinsey & Company. He is the author of Why Pride Matters More Than Money, Peak Performance, and coauthor of the seminal book The Wisdom of Teams. Douglas K. Smith is an internationally recognized author and consultant on organization performance, innovation, and change. He is coauthor of The Wisdom of Teams and author of Taking Charge of Change. His work on teams and organizational performance has been featured in Business Week, the Wall Street Journal, the New York Times, the Harvard Business Review, and the McKinsey Quarterly.
or
Not Currently Available for Direct Purchase