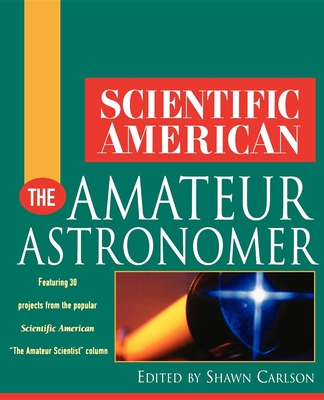 Scientific American the Amateur Astronomer (Scientific American (Wiley))
Paperback

* Individual store prices may vary.
Description
From the longest running column in Scientific American's history comes this collection of fascinating projects for amateur astronomers
For over seventy years, ""The Amateur Scientist"" column in Scientific American has helped people explore their world and make original discoveries. This collection of both classic and recent articles presents projects for amateur astronomers at all levels. Hands-on astronomy fans will find how to build inexpensive astronomical instruments using ordinary shop-tools. From making a telescope to predicting satellite orbits to detecting the chemical composition of faraway stars, this book has something for everyone interested in practical astronomy.
Wiley, 9780471382829, 288pp.
Publication Date: December 1, 2000
About the Author
SCIENTIFIC AMERICAN magazine reaches more than three million readers globally by subscription, on newsstands, and online at www.sciam.com. The company also publishes Scientific American Explorations, a quarterly family magazine, and Scientific American Archive, an online archive of issues from 1993 to the present at www.sciamarchive.com. SHAWN CARLSON has authored Scientific American's "The Amateur Scientist" column since 1995. He is the Executive Director of the Society for Amateur Scientists and a 1999 winner of the prestigious MacArthur Foundation "genius" Fellowship.