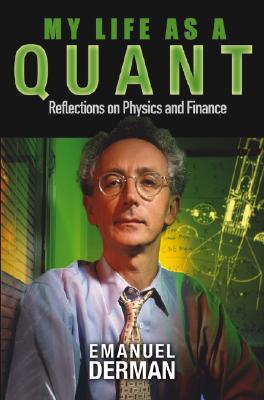 My Life as a Quant (Hardcover)
Reflections on Physics and Finance
Wiley, 9780471394204, 292pp.
Publication Date: September 16, 2004
Other Editions of This Title:
Paperback (1/11/2016)
MP3 CD (7/26/2016)
* Individual store prices may vary.
Description
In My Life as a Quant, Emanuel Derman relives his exciting journey as one of the first high-energy particle physicists to migrate to Wall Street. Page by page, Derman details his adventures in this field--analyzing the incompatible personas of traders and quants, and discussing the dissimilar nature of knowledge in physics and finance. Throughout this tale, he also reflects on the appropriate way to apply the refined methods of physics to the hurly-burly world of markets.
About the Author
Emanuel Derman has a PhD in theoretical physics from Columbia University. He is the author of numerous articles in elementary particle physics, computer science, and finance, and a coauthor of the widely used Black-Derman-Toy interest rate model and the Derman-Kani local volatility model. After an initial career in academic life and a stint at AT&T Bell Laboratories, he moved to Goldman, Sachs & Co. in 1985, where he became a managing director in 1997. Among his many awards and honors, he was named the SunGard/IAFE Financial Engineer of the Year in 2000 and was appointed to the Risk Hall of Fame in 2002. He is currently the Director of the Program in Financial Engineering at Columbia University, a columnist for Risk magazine, and a risk advisor to an investment management company. He lives in New York City.
or
Not Currently Available for Direct Purchase