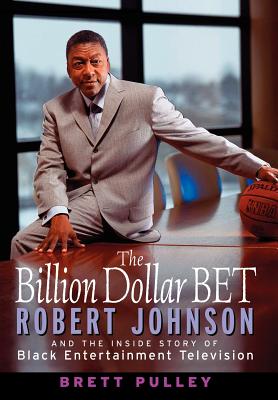 The Billion Dollar Bet (Hardcover)
Robert Johnson and the Inside Story of Black Entertainment Television
Wiley, 9780471423638, 248pp.
Publication Date: March 26, 2004
Other Editions of This Title:
Paperback (9/1/2005)
* Individual store prices may vary.
Description
Praise for The Billion Dollar BET

"In a gripping narrative that is both inspirational and cautionary, Brett Pulley tells us how Robert Johnson built Black Entertainment Television into a billion-dollar media empire. In a remarkable feat of reporting, without Johnson's cooperation, Pulley shows what it really takes to get ahead in America today, and in doing so provides as valuable a cultural as business history."
--James B. Stewart Pulitzer Prize-winning journalist and bestselling author of DisneyWar, Den of Thieves, and Heart of a Soldier

"Like or dislike? Agree or disagree? Bob Johnson's richly varied and fascinating life presses you against the window that Brett Pulley opens widely."
--Bernard Shaw retired CNN anchor

"Through his BET network, Bob Johnson reached the pinnacle of capitalism, the billionaire boys club, in the spirit of legions of driven, American moguls . . . Veteran business journalist Brett Pulley peels back the layers of this fascinating and complex entrepreneur."
--Teri Agins Senior Special Writer, the Wall Street Journal, and author of The End of Fashion: How Marketing Changed the Clothing Business Forever.
About the Author
BRETT PULLEY is a senior editor at Forbes magazine, where he writes primarily about the media and entertainment industries. He has authored several cover stories including the 2001 Forbes 400 on Robert Johnson. Prior to joining Forbes in September 1999, he spent five years at the New York Times, where he covered economic development, politics, and was a national correspondent. He also spent several years as a correspondent at the Wall Street Journal, writing extensively on business and race. His front-page feature for the Wall Street Journal on the black-owned company, Johnson Products, won a first-place award from the National Association of Black Journalists (NABJ). He received a second NABJ award for a feature written for Savoy magazine, where he served as a contributor. He has also written for several other publications, including USA Today and Emerge magazine. He is a frequent guest on many television programs, providing commentary and insight on media and entertainment news and issues. Pulley currently lives in New Jersey with his wife and two young daughters.