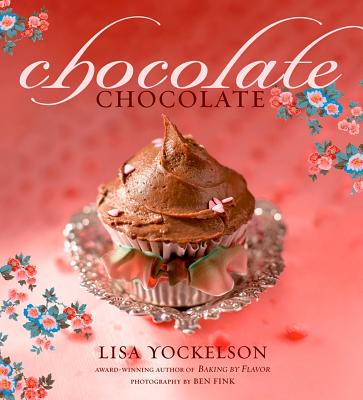 ChocolateChocolate (Hardcover)
Houghton Mifflin Harcourt, 9780471428077, 512pp.
Publication Date: September 9, 2005
* Individual store prices may vary.
Description
Deep, dark, and fudgy. Moist and luxurious. Seductively rich.
For award-winning author Lisa Yockelson, chocolate has long been an obsession, a craving, a calling. Now she fulfills the calling in ChocolateChocolate, a dream cookbook that blends how-to information and more than 200 sublime recipes with a delicious collection of chocolate essays and reminiscences.
ChocolateChocolate reveals baking with chocolate as a sweet and simple art, one that is both rewarding and accessible. The book's unique "baking diary" format arranges chapters by theme, reflecting Yockelson's fresh and personal approach to baking. From comforting Brownie Style favorites to dashing Double Chocolate and Mudslide confections, temptation beckons from every page.
The book can be used in several ways - to find a recipe for a sweet that's just packed with chocolate, to learn how chocolate behaves in the baking process, to gather information on the various types and uses of chocolate, and, of course, to simply rejoice in what surely must be the most luxurious of all flavors.
Complemented by 155 stunning color photographs that artfully express her specialties in all their chocolate glory, here is a timeless reference all home bakers will return to again and again as a source of instruction, inspiration...and sheer indulgence.
About the Author
LISA YOCKELSON is a food writer for both the Washington Post, the Boston Globe, and the New York Times and has contributed recipes and essays to publications including Gastronomica: The Journal of Food and Culture, Chocolatier, Pastry Art & Design, and Cook's Illustrated. Her Gastronomica article "Brownies: A Memoir" was included in Best Food Writing 2002. Yockelson is the author of ten cookbooks, including ChocolateChocolate (2005), which won The International Association of Culinary Professionals' (IACP) Award for Bread, Other Baking and Sweets category and was nominated for a James Beard Award in 2006, and Baking by Flavor (2002), which won the IACP Award for Bread, Other Baking and Sweets category and was nominated for a James Beard Foundation prestigious award in 2003. She is a graduate of the London Cordon Bleu.
Praise For ChocolateChocolate…
"Good results are...assured by the excellent and reliable baker..." (
New York Times Book Review
, December 4, 2005)
Yockelson (Baking with Flavor) has produced a book that is both encyclopedic and deeply personal, combining detailed information, clear instructions and engaging anecdotes. Even the most seasoned cacao bean lover will find surprises among the 200-plus recipes, while bakers at every level of expertise will appreciate the meticulous guide to techniques and ingredients (which includes a chart showing the relative strengths and uses of 180 different chocolates, from powders to Milky Way bars and imported brands). Recipes are organized around flavors, textures and themes, like "Back-to-Basics Chocolate Cakes," "Chocolate Pancakes" and "Mudslide." Whether explaining the family history of Chocolate Chip Cracks or Grandma Lily's Marble Cake, or the technical challenges of Bittersweet Chocolate Creams or Sweet Chocolate Streusel Tea Biscuits, Yockelson expands the reader's stereotypes about chocolate. It's a complex and seductive ingredient for grown-up eaters and the most sophisticated cooks. With 150 color photographs in a lush, oversized format, this work is destined for a long life on every serious baker's shelf. Agent, Mickey Choate. (Aug.) (Publishers Weekly, May 9, 2005)
or
Not Currently Available for Direct Purchase