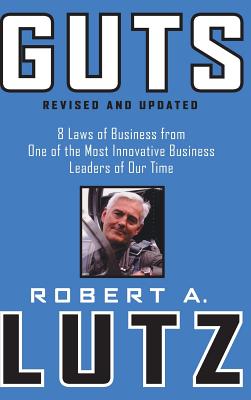 Guts (Hardcover)
8 Laws of Business from One of the Most Innovative Business Leaders of Our Time
John Wiley & Sons, 9780471463221, 234pp.
Publication Date: September 26, 2003
* Individual store prices may vary.
Description
"Read it for no other reason than to learn Bob's Seven ImmutableLaws of Business. . . . This is vintage Bob-contrarian, thoughtful, and he's really fun to read."
--
Forbes
In this edition of Bob Lutz's bestselling account of thebusiness philosophy with which he revolutionized Chrysler and muchof the automotive industry, Lutz reveals his unique brand ofcreative management. Readers will learn many lessons herein, including why the key to success in any business is maintaining apositive tension between the creative minds and the buttoned-upfinancial minds, and how to attract, motivate, and strategicallydeploy each type throughout an organization. This book features anew introduction and an epilogue in which Lutz introduces an eighthlaw that helps today's business leaders put his famed SevenImmutable Laws of Business into sharper perspective.
Robert A. Lutz (Scarsdale, NY) is General Motor's ViceChairman of Product Development and Chairman of GM NorthAmerica.
About the Author
ROBERT A. LUTZ is General Motors's Vice Chairman of ProductDevelopment and Chairman of GM North America. He is highly regardedfor his genius in product development, most notably for his 1989concept car, the Viper, and he is renowned for leading Chrysler toits second renaissance in the 1990s. Automotive News called Lutz"the towering figure in the American automotive industry in thelast three decades in this century."