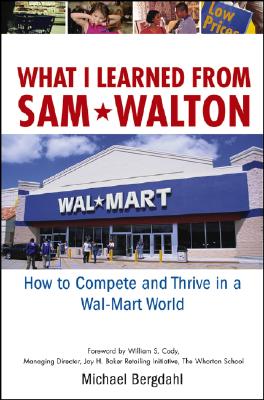 What I Learned from Sam Walton (Hardcover)
How to Compete and Thrive in a Wal-Mart World
John Wiley & Sons, 9780471679981, 237pp.
Publication Date: August 20, 2004
Other Editions of This Title:
Paperback (8/1/2006)
* Individual store prices may vary.
Description
Praise for WHAT I LEARNED FROM SAM WALTON

"Michael Bergdahl's book presents unique insights into the staggering international success of Wal-Mart. Throughout the pages of this book, you can almost hear Sam Walton himself coaching and inspiring his legion of employees to greatness."
-Tracy Mullin, President and CEO, National Retail Federation

"Retailers, non-retailers, manufacturers, and suppliers will enjoy Bergdahl's insights into Wal-Mart's service culture and its leadership icon, Sam Walton."
-Roger J. Dow, Senior Vice President Global and Field SalesMarriott International, Inc.

Bergdahl outlines his competitive strategy with the acronym P.O.C.K.E.T.S.

P-Price: Don't try to compete on price; differentiate your product selection.

O-Operations: Break the retail "ready, shoot, aim" tactical orientation bydeveloping an actual strategy to compete.

C-Culture: Build a can-do culture with a strong sense of urgency. Communicate your values and beliefs over and over again to your employees.

K-Key Item Promotion/Product: Determine who you are and uniformly communicate your brand message to your entire team.

E-Expenses: Become obsessed about controlling costs.

T-Talent: Recruit constantly and hire people who have both experience and high potential.

S-Service: Never take your customer for granted. Empower your employees to make decisions involving customer concerns.
About the Author
MICHAEL BERGDAHL has over twenty-five years of business experience working in a variety of business environments with outstanding business leaders. He has worked for three Fortune 500 companies and has been involved in two successful business turnarounds. His experiences in the restaurant, publishing, petrochemical, consumer packaged goods, discount retailing, specialty retailing, and waste industries provide the foundation for his interest in and knowledge of this topic. His years of retailing experience with companies like Frito-Lay, Wal-Mart, and American Eagle Outfitters provided the "business laboratory" for him to fine tune his understanding of business competition. His knowledge of Wal-Mart comes from firsthand experiences working at their home office-with Mr. Sam himself.
or
Not Currently Available for Direct Purchase