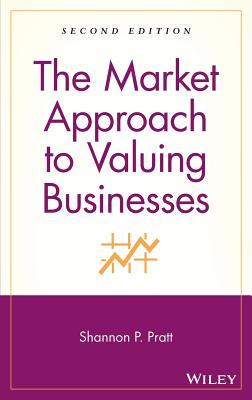 Valuing Businesses 2e
Hardcover

* Individual store prices may vary.
Description
Your Best Approach to Determining Value
If you're buying, selling, or valuing a business, how can you determine its true value? By basing it on present market conditions and sales of similar businesses. The market approach is the premier way to determine the value of a business or partnership. With convincing evidence of value for both buyers and sellers, it can end stalemates and get deals closed. Acclaimed for its empirical basis and objectivity, this approach is the model most favored by the IRS and the United States Tax Court-as long as it's properly implemented.
Shannon Pratt's The Market Approach to Valuing Businesses, Second Edition provides a wealth of proven guidelines and resources for effective market approach implementation. You'll find information on valuing and its applications, case studies on small and midsize businesses, and a detailed analysis of the latest market approach developments, as well as:
A critique of US acquisitions over the last twenty-five years
An analysis of the effect of size on value
Common errors in applying the market approach
Court reactions to the market approach and information to help you avoid being blindsided by a litigation opponent
Must reading for anyone who owns or holds a partial interest in a small or large business or a professional practice, as well as for CPAs consulting on valuations, appraisers, corporate development officers, intermediaries, and venture capitalists, The Market Approach to Valuing Businesses will show you how to successfully reach a fair agreement-one that will satisfy both buyers and sellers and stand up to scrutiny by courts and the IRS.
Wiley, 9780471696544, 432pp.
Publication Date: November 1, 2005
About the Author
Shannon P. Pratt, CFA, FASA, MCBA, CM&AA, is the Chairman and CEO of Shannon Pratt Valuations, Inc. a premier business valuation firm located in Portland Oregon, and is the founder and Editor Emeritus of Business Valuation Resources, LLC. Over a distinguished career of close to four decades, he has performed valuation engagements for M&A, ESOPs, gift and estate taxation, marital dissolution, shareholder oppression and dissent, and numerous other purposes. He has conducted numerous fairness and solvency opinions, has testified in a wide variety of federal and state courts across the country, and frequently participates in arbitration and mediation proceedings. Dr. Pratt is one of the most successful and respected authors in his field. He is the author or coauthor of several industry standards, including Valuing a Business: The Analysis and Appraisal of Closely Held Companies, Valuing Small Businesses and Professional Practices, The Market Approach to Valuing Businesses, Standards of Value, Business Valuation and Taxes, The Lawyer's Business Valuation Handbook, and Cost of Capital.