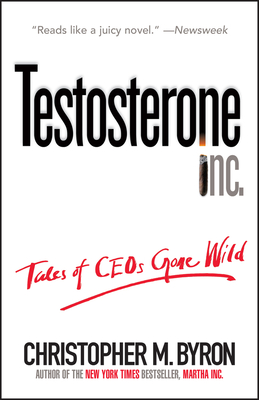 Testosterone Inc (Paperback)
Tales of Ceos Gone Wild
Wiley, 9780471706236, 402pp.
Publication Date: April 8, 2005
* Individual store prices may vary.
Description
In Testosterone Inc.: Tales of CEOs Gone Wild, bestselling authorand New York Post columnist Chris Byron chronicles the Gatsby-likesaga of the rise and fall of the celebrity CEO. During the heightof the 1990s bull market, they were America's new heroes: theheroes of business. They were our bold new leaders, cutting thefat, pushing for productivity, implementing visionary plans, andmaking strategic deals.
When the bull market turned to bust and the applause turned tocat-calls, the world was shocked at the truth. Drenched in moneyand public acclaim, our CEO-heroes--mostly white, mostly male, mostly middle-aged--turned out to be not much different than agroup of twenty-something rock stars--drunk on power anddriven by sex, greed, and glamour.
Testosterone Inc. goes behind the boardroom doors to show theserial affairs and marriages of these acquisitive corporatetitans. At the center of this story is Jack Welch, thebiggest of America's rock star CEOs and the former head ofGeneral Electric Co., surrounded by "mini-me" CEOs RonPerelman of Revlon, Al Dunlap of Sunbeam, and Dennis Kozlowski ofTyco--all gone wild in public displays of consumption andpredatory appetites writ large.
Byron gets inside the bars where Welch liked to hang out andpick up women with his early "business soul mate"buddies. Byron hovers unseen at the elbow of Ron Perelman and hismistress aboard the Concorde for a week in Paris in his mistakenbelief that his wife knows nothing about his secret affair. Byronpeeks behind the curtains of a U.S. Army officers' quartersto behold Al Dunlap horrifying his first wife, who claimed in herdivorce action that Dunlap would point his knife at her and say,"I often wondered what human flesh tasted like." Byronbecomes a fly on the wall to chronicle the longing for respect andserial womanizing of Dennis Kozlowski.
Frequently hilarious, sometimes heartbreaking, Testosterone Inc.follows the intertwined lives of these four corporate heroes, fromchildhood to their ultimate moments of glory and the crash-and-burncalamities that followed, as man's age-old hunger for power, greed, and temptation undid them all. From suicide to murder, from dysfunctional childhoods to dysfunctional marriages inadulthood, from business chutzpah to financial suicide, here is theultimate untold business story of our time: what went on atcentury's end, when testosterone got the best of businessmeneverywhere, and CEOs went wild.
About the Author
CHRISTOPHER M. BYRON has been writing about business and finance for over thirty years. He is author of the international and New York Times bestseller, Martha Inc., writes a weekly business column for the New York Post, and is host of a syndicated daily radio show, Wall Street Wake Up with Chris Byron. He is an analyst on Good Morning America, and appears frequently on CNBC, FOX News Network, MSNBC, and CBS Evening News, among other venues. His articles have appeared in Esquire, Playboy, New York, Worth, Men's Health, and Travel Holiday magazines. Byron graduated from Yale College and the Columbia University School of Law. He is a veteran of the U.S. Navy and lives in Connecticut with his family.