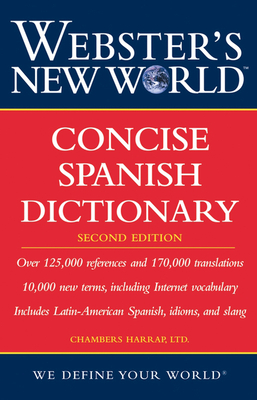 Webster's New World Concise Spanish Dictionary, Second Edition (Paperback)
Webster's New World, 9780471748366, 1136pp.
Publication Date: January 13, 2006
* Individual store prices may vary.
Description
* Extensive coverage of the most frequently used words, including Internet terminology, slang, and idiomatic phrases
* Thousands of sample phrases that show the various meanings of words
* Special features such as pronunciation guides, tables of irregular verbs, and a comprehensive communication guide
About the Author
Chambers Harrap, Ltd. is based in Edinburgh and publishes bilingual dictionaries in a wide variety of foreign languages. The editorial team consists of a cosmopolitan team of lexicographers from the UK, France and Spain who work closely with contributors all around the world. Teams in Mexico and the US play an important role in ensuring that the content of Harraps dictionaries is as international as possible. Editors are able to draw on the extensive databases of widely praised top-of-the-range French and Spanish titles, as well as the latest resources such as linguistic corpora and the Internet.