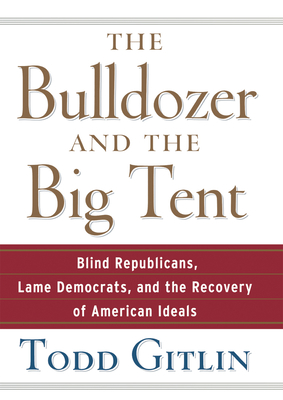 The Bulldozer and the Big Tent
Blind Republicans, Lame Democrats, and the Recovery of American Ideals
Hardcover

* Individual store prices may vary.
Description
This book, by one of America's most intelligent and decent political writers, tells liberals how the conservative movement rose and fell, and how they could emulate its successes while avoiding its failures.
--George Packer, author of Blood of the Liberals and The Assassins' Gate ""No one is better than Todd Gitlin at describing the crucial dynamic through which movements gain or lose political power. Justly celebrated for his seminal work on such dynamics during the 1960s, Gitlin now explains everything that's happened since, with passion and wisdom--and happily, because of Bushism's collapse, legitimate optimism about the future.""
--Michael Tomasky, Editor, Guardian America ""An impassioned yet realistic plea for Democrats and liberals to become more serious about politics. They would do well to follow his advice.""
--Alan Wolfe, Director, Boisi Center for Religion and American Public Life, Boston College ""A brilliant and indispensable book. Gitlin convincingly urges liberals to take seriously the greater difficulty the Democrats have forging cohesion among identity-based groups over the Republicans persuading the less diverse Republican base to bury disagreements in the drive for victory. Gitlin argues that Democrats will have to bite the bullet and unite under a big tent. It's a hard lesson for ardent newcomers to the movement to swallow. Gitlin is dead right.""
--Thomas B. Edsall, Special Correspondent, The New Republic ""This is an indispensable book by one of our most gifted public intellectuals. Todd Gitlin explains--with splendid scholarship, reporting, and wit--how the Bush machine debased our political life and how progressives, in all their variety, are struggling to build a new majority. It is the best guide we have to America's recent past and its possible future.""
--Michael Kazin, author of A Godly Hero: The Life of William Jennings Bryan and Professor of History, Georgetown University.
Wiley, 9780471748533, 334pp.
Publication Date: September 1, 2007
About the Author
Todd Gitlin is a professor of journalism and sociology at Columbia University. He is the author of numerous books, including the national bestseller "The Sixties," and a contributing writer for "Mother Jones." His work has appeared in many publications, including the "New York Times," the "Washington Post," the "Nation," the "American Prospect," and "Harper's." He blogs at TPMcafe.com.