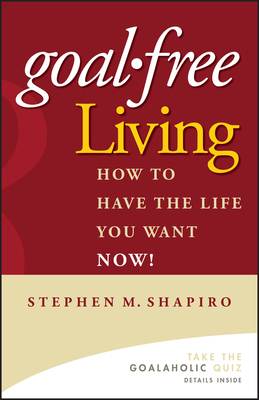 Goal-Free Living (Hardcover)
How to Have the Life You Want Now!
Wiley, 9780471772804, 219pp.
Publication Date: December 1, 2005
* Individual store prices may vary.
Description
Praise for Goal Free Living

Setting goals may be fine. But letting your goals take control ofyour life can be devastating. Goal-Free Living shows you how toexplore paths in your life you never knew existed and discover amore exciting, successful, and rewarding life--today

"If you have only one goal this year, let it be this: ReadGoal-Free Living "
--Daniel H. Pink author, A Whole New Mind and Free AgentNation

"Stephen Shapiro's approach will help readers achieve the best kindof happenstance: taking a stance to make things happen."
--Heath Row Contributing Editor and Community Director, FastCompany magazine

"I have a sense that reading this book may turn out to be one ofthe most important things I've done in a long time."
--Doug Busch Vice President and Chief Technology Officer, DigitalHealth Group, Intel Corporation

"This is an engaging, creative approach to discovering inner wisdomand personal fulfillment."
--Michael J. Gelb author, How to Think Like Leonardo da Vinci andDiscover Your Genius

"Reading Goal-Free Living is like jettisoning a hundred-pound pack.Suddenly, you're racing much faster and enjoying the breeze."
--Alan Weiss, PhD author, Million Dollar Consulting.
About the Author
STEPHEN M. SHAPIRO is a recognized expert and professional speaker on the topics of creativity and innovation. He is the founder of the 24/7 Innovation Group, a management education and research organization focused on innovation and breakthrough business thinking. A former consultant at Accenture, he founded that firm's Process Excellence Practice. You can learn more about goalfree living at www.goalfree.com.
or
Not Currently Available for Direct Purchase