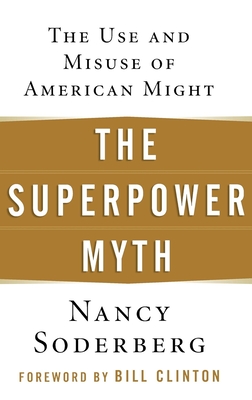 The Superpower Myth (Paperback)
The Use and Misuse of American Might
Wiley, 9780471789642, 404pp.
Publication Date: April 1, 2006
* Individual store prices may vary.
Description
For eight years, Nancy Soderberg served with distinction and creativity at the highest levels of American government. She is uniquely positioned to explain how the world works in this new era-and when it's in danger of breaking down.
--Dr. Madeleine K. Albright, former U.S. Secretary of State
Are there limits to American power? The neoconservative brain trust behind the Bush administration's foreign policy doesn't seem to recognize any. For the first time, we have people in power who believe that as the world's reigning superpower, America can do what it wants, when it wants, without regard to allies, costs, or results. But as events in Iraq are proving, America may be powerful, but it is not all-powerful.
In practice, no country could ever be strong enough to solve problems like Somalia, Kosovo, Afghanistan, and Iraq through purely military means. In the future, America's power will constantly be called up to help failed and failing states, and it is becoming clear that the complex mess of Somalia has replaced the proxy war of Vietnam as the model for what future military conflicts will look like: a failed state, a power vacuum, armed factions, and enough chaos to panic an entire region. Using vivid examples from her years in the White House and at the United Nations, Nancy Soderberg demonstrates why military force is not always effective, why allies and consensus-building are crucial, and how the current administration's faulty world view has adversely affected policies toward Israel, Iraq, North Korea, Haiti, Africa, and Al-Qaeda. Powerful, provocative, and persuasive, this timely book demonstrates that the future of America's security depends on overcoming the superpower myth.
About the Author
NANCY SODERBERG has served on the National Security Council and as a U.S. Ambassador to the U.N. Her commentary has appeared in the New York Times, the Washington Post, Salon, the Washington Monthly, the Los Angeles Times, the American Prospect, and the Financial Times. She has also appeared on The NewsHour with Jim Lehrer, The Daily Show with Jon Stewart, Crossfire, The Charlie Rose Show, and numerous other television programs.