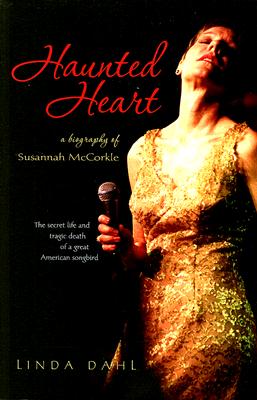 Haunted Heart
A Biography of Susannah McCorkle
Paperback

* Individual store prices may vary.
Description
"In this comprehensive biography, compiled from meticulous research and interviews with many of McCorkle's confidants . . . Dahl reconstructs a career distinguished by great promise and great sadness . . . doing her best to address a large, looming 'Why?' that can never be completely answered."
— New York Times



"A compelling, sympathetic but often chilling view not only of McCorkle's complexities but also of the difficult business of music itself and of the widespread always potentially fatal illness now better known as bipolar disorder, which the singer hid from so many, even from herself for many years."
— Newsweek



" Susannah's life was dark and daunting. Her music was suave and sunny. Both are honored in this remarkably well-researched and constantly revealing keyhole peek into a haunted life that is both chilling and exhilarating. I could not put it down."
— Rex Reed



" Susannah McCorkle was a mesmerizing singer with a dark side she hid even from her closest friends. Now, thanks to this probing and courageous biography, we can understand the gut ambition that took her to the top of her field and the turmoil that brought her down."
— James Gavin, author of Deep in a Dream: The Long Night of Chet Baker



" Haunted Heart strikingly resembles the woman it describes: it is vivacious, tender, saturnine, industrious, and deeply intelligent. Like Susannah's way with certain ballads, it opens a wound and begins the work of healing it. I am grateful for Linda Dahl's diligence and sympathy."
— Leon Wieseltier



Linda Dahl is the author of Stormy Weather: The Music and Lives of a Century of Jazzwomen and Morning Glory: A Biography of Mary Lou Williams. Visit the author' s website at www.dahljazz.com.


University of Michigan Press, 9780472032730, 344pp.
Publication Date: March 28, 2008