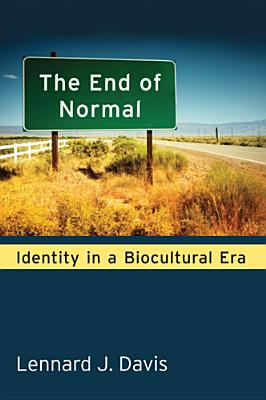 The End of Normal (Paperback)
Identity in a Biocultural Era
University of Michigan Press, 9780472052028, 168pp.
Publication Date: January 3, 2014
* Individual store prices may vary.
Description
In an era when human lives are increasingly measured and weighed in relation to the medical and scientific, notions of what is "normal" have changed drastically. While it is no longer useful to think of a person's particular race, gender, sexual orientation, or choice as "normal," the concept continues to haunt us in other ways. In The End of Normal, Lennard J. Davis explores changing perceptions of body and mind in social, cultural, and political life as the twenty-first century unfolds. The book's provocative essays mine the worlds of advertising, film, literature, and the visual arts as they consider issues of disability, depression, physician-assisted suicide, medical diagnosis, transgender, and other identities.
Using contemporary discussions of biopower and biopolitics, Davis focuses on social and cultural production—particularly on issues around the different body and mind. The End of Normal seeks an analysis that works comfortably in the intersection between science, medicine, technology, and culture, and will appeal to those interested in cultural studies, bodily practices, disability, science and medical studies, feminist materialism, psychiatry, and psychology.
About the Author
Lennard J. Davis is Distinguished Professor of Liberal Arts and Sciences at the University of Illinois at Chicago in the departments of English, Disability and Human Development, and Medical Education.
Praise For The End of Normal: Identity in a Biocultural Era…
"Davis's argument for the overcoming of the humanities/science division, as well as his prefiguration of an imagination free of this in each chapter, make The End of Normal essential reading in both disability studies and the burgeoning field of medical humanities."
--H-Disability
— Arianna Introna
"[Davis] makes a compelling and provocative argument that the concept of normal has given way to a seemingly more inclusive umbrella of diversity, yet disability remains excluded."
--Somatosphere
— Elizabeth Lewis
"End of Normal is written in a clear and engaging style which will appeal to undergraduate students, postgraduates and academics alike from a range of disciplines, including disability studies, cultural studies, psychiatry and psychology and medical humanities. The book is easy to read from cover to cover but chapters can stand alone and allow the reader to dip in and out of some of the contemporary debates within disability studies that capture their interest."
--Disability & Society
— Katherine RUnswick-Cole