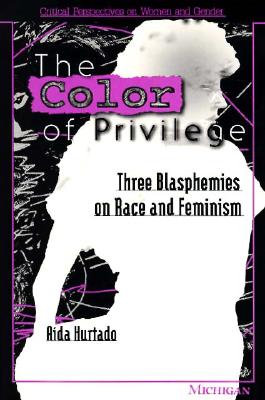 The Color of Privilege
Three Blasphemies on Race and Feminism (Critical Perspectives On Women And Gender)
Paperback

* Individual store prices may vary.
Description
This groundbreaking and important book explores how women of different ethnic/racial groups conceive of feminism. Aída Hurtado advances the theory of relational privilege to explain those differing conceptions. Previous theories about feminism have predominantly emphasized the lives and experiences of middle-class white women. Aída Hurtado argues that the different responses to feminism by women of color are not so much the result of personality or cultural differences between white women and women of color, but of their differing relationship to white men.
For Hurtado, subordination and privilege must be conceived as relational in nature, and gender subordination and political solidarity must be examined in the framework of culture and socioeconomic context. Hurtado's analysis of gender oppression is written from an interdisciplinary, multicultural standpoint and is enriched by selections from poems by Sandra Cisneros, Gloria Anzaldúa, Lorna Dee Cervantes, and Elba Sanchez, and from plays by El Teatro Campesino, the United Farm Workers theater group.
A final chapter proposes that progressive scholarship, and especially feminist scholarship, must have at its core a reflexive theory of gender oppression that allows writers to simultaneously document oppression while taking into account the writer's own privilege, to analyze the observed as well as the observer.
Aída Hurtado is Associate Professor of Psychology, University of California, Santa Cruz.

Praise For The Color of Privilege: Three Blasphemies on Race and Feminism (Critical Perspectives On Women And Gender)…
"Aída Hurtado urges us to think deeply and creatively about the current possibilities of cross-racial feminist activism. She revisits some of the painful questions regarding political relationships across racial and ethnic borders that have persisted over the last three decades and, indeed, will not go away unless we boldly confront them. At a time when debates on the welfare system, the punishment industry, immigration, and affirmative action require us to address specific and complex convergencies of race, class, gender, and sexuality, The Color of Privilege offers valuable analytical and organizing strategies to scholars and activists alike."
—Angela Davis
— Angela Davis
"The Color of Privilege provides an original line of analysis and fresh insight in a comprehensive accessible teoria for understanding different forms of oppression based on the simultaneity of race, gender, and class group affiliations. Her brilliant self-consciously cross-disciplinary Chicana critique adds to our understanding of subordination and its implications for a multicultural feminism and for political mobilization. A heart-felt yes yes yes to this very worth-your-reading text."
—Gloria E. Anzaldúa
— Gloria E. Anzaldúa
"Hurtado's writings are a gift of brilliance; an invitation into a conversation as touch as it is necessary—a conversation about gender, race, ethnicity, coalitions, and alliances. In a powerful voice of resistance that blends theory, research, Chicana poetry, and cultural studies, Hurtado asks readers to join in analysis and struggle to reimagine scholarship and politics at the messy interstices of race/ethnicity, and gender."
—Michelle Fine, Graduate School and University Center, CUNY
— Michelle Fine, Graduate School and University Center, CUNY
"Hurtado's book is an impassioned, reflexive, and carefully crafted analysis of the dynamics of race, class, and gender relations in the U.S., written from the perspective of 'women of Color' (author's capitalization) and a strongly feminist—some might say radical—deconstructionist stance. . . . [S]he creatively lays out and then analyzes what she calls 'my own fable to explore the unspoken rules of power.' This is a technique or method she borrows from a school of legal thought called 'critical race studies,' and she uses it most effectively and provocatively to uncover the subtle and deceptive trickster mentality that defines and defends white privilege in the U.S."
—Choice
— Choice
"El meticuloso análisis que Aída Hurtado lleva a cabo en The Color Privilege sobre la realidad política y social de la mujer de color, contribuye de una manera singular a comprender la necesidad de crear un paradigma feminista donde se incluyan todas las experiencias de las mujeres."
—Revista de Estudios Hispanicos
— Revista de Estudios Hispanicos
University of Michigan Press, 9780472065318, 216pp.
Publication Date: December 16, 1996
About the Author
Aída Hurtado is Associate Professor of Psychology, University of California, Santa Cruz.
or
Not Currently Available for Direct Purchase