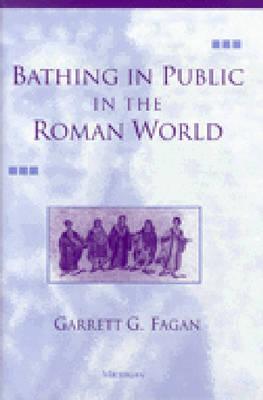 Bathing in Public in the Roman World (Paperback)
University of Michigan Press, 9780472088652, 480pp.
Publication Date: May 7, 2002
* Individual store prices may vary.
Description
For Romans, bathing was a social event. Public baths, in fact, were one of the few places where large numbers of Romans gathered daily in an informal context. They went to meet friends, drink wine, pick up sexual partners, and generally while away the idle afternoon hours. Despite the disapproval of the morally superior, the popularity of the baths endured for over a millennium and spread to every corner of the Roman world.

This book is the first to study the Roman public bathing experience primarily as a historical, social, and cultural phenomenon rather than a technological or architectural one. As a result, many issues are developed here that have to date been addressed only superficially. Fagan reconstructs what a trip to a Roman bath was like. He asks when and why the baths became popular at Rome, who built and maintained the abundant bathing establishments, and what sociological function the baths played in the Roman empire's rigidly hierarchical social order.

To throw light on these everyday topics the author deploys a wide variety of evidence, including literary allusions; the remains of the baths themselves, graffiti scribbled on bathroom walls; and, above all, formal inscriptions that throw light on the ubiquitous bathing culture.

In the course of this study Fagan challenges some widely held beliefs about baths, ranging from such broad notions of baths as palaces of public hygiene or places where the social identity of the bathers broke down, to more mundane matters such as the habitual donning of bathing costumes.

This volume will be of great interest for those studying luxury and public ostentation, municipal life, and the meaning of Roman leisure. Comparative evidence from other bathing cultures will also interest social anthropologists and historical sociologists.

Garret Fagan is Assistant Professor of Classics and Ancient Mediterranean Studies, Pennsylvania State University.

or
Not Currently Available for Direct Purchase