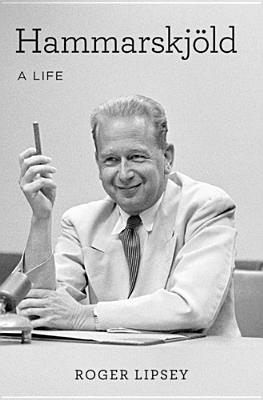 Hammarskjold (Hardcover)
A Life
University of Michigan Press, 9780472118908, 760pp.
Publication Date: March 18, 2013
* Individual store prices may vary.
Description
After his mysterious death, Dag Hammarskjold was described by John F. Kennedy as the "greatest statesman of our century." Second secretary-general of the United Nations (1953 - 61), he is the only person to have been awarded the Nobel Peace Prize posthumously. Through extensive research in little explored archives and personal correspondence, Roger Lipsey has produced the definitive biography of Dag Hammarskjold. Hammarskjold: A Life provides vivid new insights into the life and mind of a truly great individual. Hammarskjold the statesman and Hammarskjold the author of the classic spiritual journal Markings meet in this new biography - and the reader will meet them both in these pages. A towering mid-twentieth-century figure, Hammarskjold speaks directly to our time.
About the Author
Roger Lipsey, author, art historian, editor, and translator, has written on a wide range of topics and intellectual figures. He was the general editor of the three-volume edited works of Ananda K. Coomaraswamy. Other works include An Art of Our Own: The Spiritual in Twentieth-Century Art and the prizewinning Angelic Mistakes: The Art of Thomas Merton. He is director of the parent company that publishes Parabola magazine.
Praise For Hammarskjold: A Life…
"A monumental life, spiritual and intellectual more than purely biographical, of the great Swedish diplomat and author. Dag Hammarskjöld (1905–1961), writes Lipsey (Angelic Mistakes: The Art of Thomas Merton, 2006, etc.), was "formidable in his time, somewhat forgotten now." The second secretary general of the United Nations, he was also an author of note whose book Markings sold widely across the world--and, the author is careful to record, some 185,000 copies in its first six months in the United States. Lipsey makes a convincing case for why Hammarskjöld should not be "somewhat forgotten": His spiritual yearnings and conviction that the U.N. could serve as a vehicle for true Christian compassion may seem a touch arcane now, but his activist stance and equal conviction that all humans are indeed created equal lend the office and institution a certain nobility. Lipsey argues that, more than mere inspiration, Hammarskjöld, once a diplomat with an economic portfolio, brought useful specific ideas to the business of international human rights, among them the importance of sanctuary and his capacity for "lightning-like" assessment of unfolding crises. He died a half-century ago in one such crisis, in the Congo, where an ugly civil war was raging; Lipsey devotes a considerable number of pages to this conflict as a kind of exemplar of all the things the U.N. is meant to ameliorate. Another episode he covers thoroughly is of current interest again more than 50 years later, namely the flight of the Dalai Lama and the Chinese invasion of Tibet, which the U.N. could not satisfactorily resolve. A good and indispensable man, Hammarskjöld "understood and respected the need for heroes." In this lucid, well-written biography, he certainly emerges as one." -- KIRKUS
"An admirably judicious and comprehensive - and long overdue - study of one of the most remarkable figures of the twentieth century, whose presence remains both spiritually and politically significant for an age of violently confused international relations." - Rowan Williams,
Master of Magdalene College (Cambridge University), former Archbishop of Canterbury
"An important, brillaintly written book. Its wide selection of sources gives a masterful, true, and full portrait of Hammarskjöld. Lipsey's learned and wise comments cobtribute much to understanding the inner life and outward actions of  a unique person." - Per Lind,
Swedish Foreign Service and personal aide to Hammarskjöld, 1953 - 56
"A great book about a great man who must not be forgotten in a time which more than ever needs to see the footprints of Dag Hammarskjöld - the combination of wholehearted engagement in the world and familiarity with the spiritual 'journey inwards.'" - K.G. Hammar,
Visiting professor (emeritus) at the Center for Theology and Religious Studies, Lund University, and former archbishop of the Church of Sweden
 
"A monumental life, spiritual and intellectual more than purely biographical, of the great Swedish diplomat and author. Dag Hammarskjöld (1905–1961), writes Lipsey (
Angelic Mistakes: The Art of Thomas Merton
, 2006, etc.), was "formidable in his time, somewhat forgotten now." The second secretary general of the United Nations, he was also an author of note whose book Markings sold widely across the world--and, the author is careful to record, some 185,000 copies in its first six months in the United States. Lipsey makes a convincing case for why Hammarskjöld should not be "somewhat forgotten": His spiritual yearnings and conviction that the U.N. could serve as a vehicle for true Christian compassion may seem a touch arcane now, but his activist stance and equal conviction that all humans are indeed created equal lend the office and institution a certain nobility. Lipsey argues that, more than mere inspiration, Hammarskjöld, once a diplomat with an economic portfolio, brought useful specific ideas to the business of international human rights, among them the importance of sanctuary and his capacity for "lightning-like" assessment of unfolding crises. He died a half-century ago in one such crisis, in the Congo, where an ugly civil war was raging; Lipsey devotes a considerable number of pages to this conflict as a kind of exemplar of all the things the U.N. is meant to ameliorate. Another episode he covers thoroughly is of current interest again more than 50 years later, namely the flight of the Dalai Lama and the Chinese invasion of Tibet, which the U.N. could not satisfactorily resolve. A good and indispensable man, Hammarskjöld "understood and respected the need for heroes." In this lucid, well-written biography, he certainly emerges as one." --
KIRKUS
"Roger Lipsey's book is a fascinating literary journey through Dag Hammarskjöld's personal and professional life. It demonstrates how his spirituality and inner strength were translated into penetrating analyses of world problems and, most importantly, into principled action." – Jan Eliasson,
Deputy Secretary-General of the United Nations
"...political junkies and history buffs will relish this definitive, painstakingly thorough treatment of a great statesman and consummate diplomat." -
Publishers Weekly
"...no one has sketched [Dag Hammarskjöld's]  life and peacekeeping endeavors with such depth and breadth as Mr. Lipsey...He argues that Hammarskjöld's diplomatic skills preserved the U.N. as a beacon of hope through turbulent times." – George Melloan,
The Wall Street Journal
-George Melloan
"[Lipsey] opens the door to a deeper understanding of Dag Hammarskjöld as a possible guide for those who live and work in a society beyond left and right."  - Mats Svegfors,
Dagens Nyheter
"...an intellectual and spiritual memoir. As such, it is masterly." - Rowan Williams,
Cambridge Humanities Review
-Rowan Williams
or
Not Currently Available for Direct Purchase