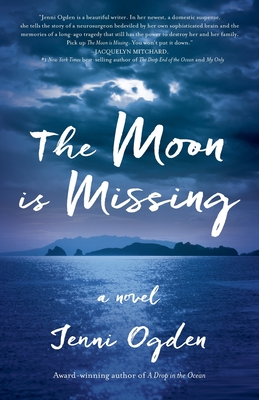 The Moon is Missing
Paperback

* Individual store prices may vary.
Description
From Jenni Ogden, author of multiple award-winning A Drop in the Ocean, comes a gripping tale of family secrets and mother-daughter conflict set in London, New Orleans during Hurricane Katrina, and on a remote island off the coast of New Zealand.
Georgia Grayson has perfected the art of being two people: a neurosurgeon on track to becoming the first female Director of Neurosurgery at a large London hospital, and a wife and mother. Home is her haven where, with husband Adam's support, she copes with her occasional anxiety attacks. That is until her daughter, 15-year-old Lara, demands to know more about Danny, her mysterious biological father from New Orleans who died before she was born. "Who was he? Why did he die? WHO AM I?" Trouble is, Georgia can't tell her. As escalating panic attacks prevent her from operating, and therapy fails to bring back the memories she has repressed, fractures rip through her once happy family. Georgia sees only one way forward- -- to return to New Orleans where Danny first sang his way into her heart, and then to the rugged island where he fell to his death. Somehow she must uncover the truth Lara deserves, whatever the cost.
Sea Dragon Press, 9780473531973, 388pp.
Publication Date: August 25, 2020