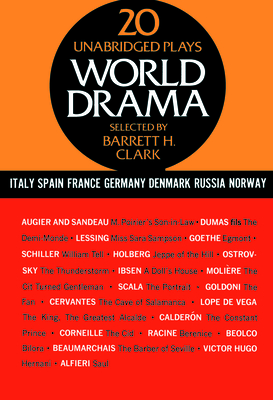 World Drama, Volume 2 (Paperback)
20 Unabridged Plays (Italy)
Dover Publications, 9780486200590, 673pp.
Publication Date: June 1, 1956
* Individual store prices may vary.
Description
This anthology was designed not only for the serious student of world literature and the drama, but for everyone interested in the stage. It is an unusual collection, containing many great plays which are not ordinarily to be found in anthologies, and several which are not currently to be found in print in English in any edition. Virtually every great dramatic tradition is represented Greek, Roman, Indian, Chinese, Japanese, Medieval, as well as such national traditions of Europe as Italian, Spanish, English, French, German, Danish, Russian, and Norwegian.
This volume includes: Beolco: Bilora; Scala: The Portrait; Goldoni: The Fan; Alfieri: Saul; Cervantes: The Cave of Salamanca; Lope de Vage: The King, the Greatest Alcalde; Calderon: The Constant Prince; Corneille: The Cid; Racine: Berenice; Moliere: The Cit Turned Gentleman; Beaumarchais: The Barber of Seville; Hugo: Hernani; Augier and Sandeau: M. Poirier's Son-in-Law; Dumas fils: The Demi-Monda; and Lessing: Miss Sara Sampson; Goethe: Egmont; Schiller: William Tell; Holberg: Jeppe of the Hill; Ostrovsky: The Thunderstorm; Ibsen: A Doll's House. 20 plays in total.
or
Not Currently Available for Direct Purchase