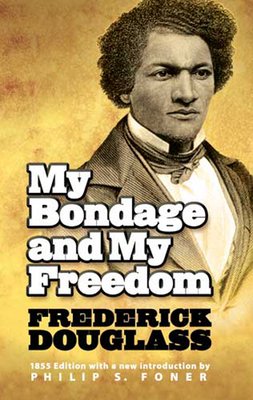 My Bondage and My Freedom (Black Rediscovery) (Paperback)
Dover Publications, 9780486224572, 368pp.
Publication Date: June 1, 1969
Other Editions of This Title:
Digital Audiobook (3/31/2016)
Paperback (5/1/2003)
Paperback (12/4/2008)
Paperback (4/18/2014)
Paperback (4/27/2019)
Paperback (2/1/2012)
Paperback (1/14/2008)
Paperback (2/10/2014)
Paperback (4/15/2014)
Paperback (11/5/2011)
Paperback (9/21/2018)
Paperback (6/5/2014)
Paperback (10/25/2005)
Paperback (1/10/2011)
Paperback (9/12/2015)
Paperback (4/20/2015)
Paperback (1/1/2014)
* Individual store prices may vary.
Description
"I have never placed my opposition to slavery on a basis so narrow as my own enslavement, but rather upon the indestructible and unchangeable laws of human nature, every one of which is perpetually and flagrantly violated by the slave system." -- Frederick Douglass
Born and brought up in slavery, Frederick Douglass (1818-1895) experienced the horrors of bondage but gained freedom and world renown as a lecturer, editor, and one of the most important men behind the American abolitionist movement. This book is the deeply moving story of his life -- as a slave, and as a free man.
Douglass wrote three autobiographies, of which the 1855 edition is the most detailed on his life as a slave. In it, readers are not spared the fullest and most graphic descriptions of the cruelty of slavery. Douglass describes his life on a Maryland plantation: the excitement and danger of teaching himself to read and write, his demoralization under a cruel master, and his daring escape.
In the second part of his tale, Douglass, now a fugitive, settles in Massachusetts and joins the anti-slavery movement. He recounts his travels to the British Isles and his first taste of freedom without prejudice, and his return to America to work as spokesman for his oppressed people. In addition to recording his sufferings and his protests, Douglass also provides a keen analysis of the effects of slavery on its victims as well as on society at large.
or
Not Currently Available for Direct Purchase