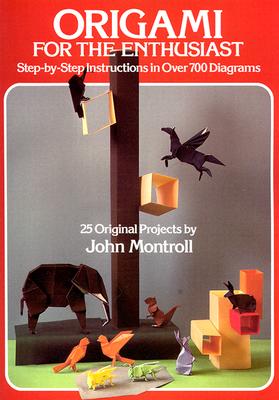 Origami for the Enthusiast (Paperback)
Dover Publications, 9780486237992, 128pp.
Publication Date: January 1, 1980
* Individual store prices may vary.
Description
Origami enthusiasts who have mastered the basic folds and seek advanced projects have found little to inspire and challenge them -- until now. Origami for the Enthusiast presents 25 intricate paper animal projects, the original creations of John Montroll. Montroll's reputation among origamists and with the Origami Center of America has been growing since he showed a penchant for paperfolding at age six. At age 14, when he became an associate of the Center, he was already creating unique models. Today he is considered one of the most original creators in this elegant Japanese art -- and this is the first published collection of his extraordinary work.
Animals can be among the most demanding subjects in the field. Montroll's animal patterns are perhaps more rigorous than most, but the lucid, step-by-step instructions, illustrated every step of the way, enable the dedicated origamist to learn advanced techniques. The animals are arranged in order of complexity, with Pegasus, the camel, the mountain goat, and a few others requiring as many as 70 steps. Careful attention to the first projects will smooth the way for the later animals. The paper menagerie consists of a fish, vulture, robin, squirrel, Pegasus, goldfish, catfish, peacock, rhinoceros, moth, seahorse, rabbit, elephant, stink bug, whale, stork, skunk, beetle, sunfish, mountain goat, goose, mouse, camel, grasshopper, and ostrich.
As will become apparent, once the basic form of the animal is achieved, slight variations may be introduced to alter the stance or even the nature of the animal, as with the moth, which after the eleventh step may metamorphose into a stink bug at the artist's whim.
Instructions for the standard folds and a guide to the symbols pave the path to some of the most intriguing and enjoyable challenges in origami. This book of original paperfolding projects offers origamists the chance to exercise their skills on original designs of great and delicate beauty.
About the Author
Internationally renowned author John Montroll has significantly increased the origami repertoire with his original designs. Best known as the inspiration behind the single-square, no-cuts, no-glue approach, the American origami master presents meticulously developed folding sequences that result in better models with fewer steps.
or
Not Currently Available for Direct Purchase