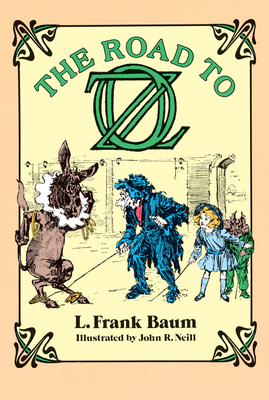 The Road to Oz (Dover Children's Classics) (Paperback)
Dover Publications, 9780486252087, 272pp.
Publication Date: December 1, 1986
Other Editions of This Title:
Paperback (12/20/2018)
Paperback (9/1/2012)
Paperback (2/27/2017)
Paperback (3/30/2019)
Paperback (4/9/2015)
Paperback (11/11/2017)
Paperback (9/11/2017)
Paperback (1/11/2013)
Paperback (3/25/2017)
Paperback (4/9/2013)
Paperback (10/17/2018)
Paperback (3/16/2019)
Paperback (9/30/2017)
Paperback (10/9/2014)
Paperback (9/14/2017)
* Individual store prices may vary.
Description
The stories of L. Frank Baum have captivated youngsters for generations -- from his Mother Goose in Prose (1897) to a fantasy about the beautiful Glinda of Oz (1920). But his stories of a little Kansas farm girl named Dorothy remain his best-loved tales. Now, reproduced directly from an early edition of the book first published in 1909, comes another treasure from the master of make-believe. This time Dorothy and Toto become lost when they try to help the strange but lovable Shaggy Man. To find their way home they travel to Oz, and on the way there they meet a host of amusing and astonishing characters, including Polychrome, the Rainbow's beautiful daughter; a silly boy named Button-Bright; and the unbelievable Scoodles, who tend to literally lose their heads in fits of anger. Once in the Land of Oz, Dorothy is reunited with many of her old friends, who are gathering for Princess Ozma's magnificent birthday party.
Children as well as grown-ups will be charmed by 126 delightfully witty drawings -- all created for the original edition by noted illustrator John R. Neill. An excellent companion piece to other Baum classics, this entertaining tale is sure to please old and new travelers to the Land of Oz.
About the Author
Best known as the author of the Wizard of Oz stories, L. Frank Baum (1856-1919) wrote many other fantasy novels, in addition to poems, short stories, and scripts for stage and screen.