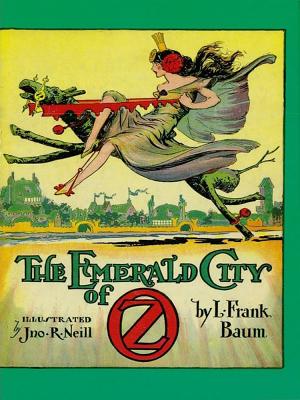 The Emerald City of Oz (Paperback)
Dover Publications, 9780486256818, 336pp.
Publication Date: June 1, 1988
Other Editions of This Title:
Paperback (11/11/2017)
Paperback (4/9/2015)
Paperback (9/17/2017)
Paperback (6/24/2018)
Paperback (2/16/2017)
Paperback (9/7/2018)
Paperback (9/11/2017)
Paperback (6/21/2018)
Paperback (8/11/2017)
Paperback (2/1/2017)
Paperback (3/1/2019)
Paperback (1/11/2018)
Paperback (3/30/2017)
Paperback (11/13/2017)
Paperback (9/15/2016)
Paperback (9/12/2014)
Paperback (1/28/2017)
Paperback (2/10/2019)
* Individual store prices may vary.
Description
The King, wanting some advice from his Chief Counselor, called for him, explained his problem and then listened to the Counselor's suggestion.] Hearing this, the King glared at his Counselor with a furious expression and tugged at his own long white whiskers until he pulled them so hard that he yelled with pain.
"You are a fool " he exclaimed.
"I share that honor with your Majesty," said the Chief Counselor.
Long-time fans of the Land of Oz will find this gentle humor familiar. For newcomers as well as veteran travelers to L. Frank Baum's fabled realm, this captivating tale promises a host of astonishing creatures, incredible feats and outlandish situations.
Considered to be the most spectacularly illustrated of all the Oz books, The Emerald City of Oz vividly describes the continuing adventures of Dorothy, Aunt Em and Uncle Henry and their move to the magical kingdom. Readers discover how Dorothy became a princess, got lost and was found again by the Wizard; how the Wizard practiced sorcery, the Scarecrow displayed his wisdom and Uncle Henry got into trouble; and how the fierce warriors invaded Oz. And, of course, there are such bizarre characters as the Cuttenclips, Wogglebug, Grand Gallipoot, and Flutterbudgets.
Over 100 highly imaginative illustrations by John R. Neill -- all enchanting representations of new friends and old favorites -- enhance this fun-filled fantasy that adults as well as children will enjoy reading again and again.
or
Not Currently Available for Direct Purchase