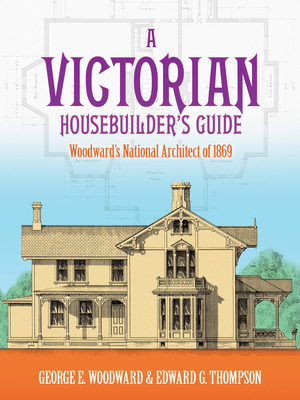 A Victorian Housebuilder's Guide (Paperback)
Woodward's National Architect of 1869 (Dover Architecture)
Dover Publications, 9780486257044, 160pp.
Publication Date: July 20, 2016
* Individual store prices may vary.
Description
Here are detailed drawings, floor plans, elevations, specifications, and vintage cost estimates for twenty distinctive Victorian structures, ranging from a humble cottage to an ornate brick villa. They have been reproduced from a rare 1869 publication of Woodward's National Architect, a publication directed to builders, carpenters, and masons of the Victorian era.
Each of these highly individual and appealing structures has been meticulously rendered in a landscaped perspective view along with front and side elevations, first- and second-floor plans, and close-up sections. With more than 580 black-and-white illustrations, the text provides directions for finishing trim, baseboards, and wainscoting; completing brick and plaster work; constructing chimneys, cesspools, and cisterns; and much more. With its wealth of authentic detail, A Victorian Housebuilder's Guide is a valuable resource for restorers, preservationists, builders, and anyone interested in the era's architecture.
About the Author
George E. Woodward (1829-1905) was a New York-based architect and a prolific publisher of architecture books.