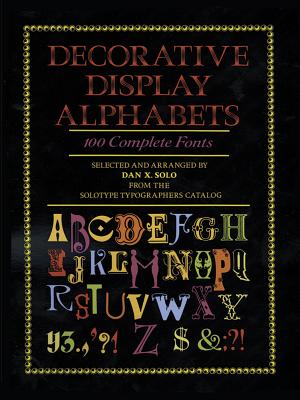 Decorative Display Alphabets (Paperback)
Dover Publications, 9780486263403, 104pp.
Publication Date: June 1, 1990
* Individual store prices may vary.
Description
For this practical archive, noted typographer Dan X. Solo has compiled a diverse assemblage of eye-catching, highly decorative light, bold, and open fonts. (In many fonts, the letter themselves are decorated ― with lacy or leafy frills, snowcaps, stripes, tiny flowers, and sundry other elements). Each font has at least a complete uppercase alphabet; most are accompanied by such extras as a lowercase alphabet, numbers, punctuation marks, and more. Ideal for a myriad of graphic projects, the fonts include these attention-getting faces: Acantha, Aeolian Black, Caprice, Currier, Decorette, Flemish Wide, Greco Adornado, Lion, Mystic, Posture, Safari, Zinco, and dozens more.
Graphic artists, illustrators, and designers will find this treasury of typefaces ideal for bringing decorative dazzle to signs, posters, newsletters, notices ― almost any printed message.
or
Not Currently Available for Direct Purchase