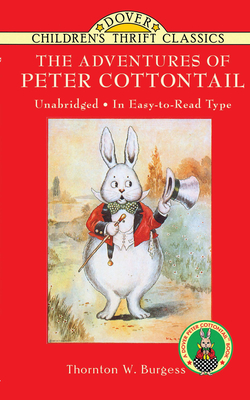 The Adventures of Peter Cottontail (Dover Children's Thrift Classics) (Paperback)
Dover Publications, 9780486269290, 96pp.
Publication Date: December 11, 1991
Other Editions of This Title:
Paperback (9/10/2016)
Paperback (7/21/2015)
Paperback (7/5/2018)
Paperback (5/7/2011)
Paperback (10/2/2016)
Paperback (11/10/1914)
Hardcover (5/21/2019)
Paperback (3/1/2017)
Hardcover (6/1/2010)
Library Binding (1/1/2018)
* Individual store prices may vary.
Description
One of the most beloved characters in children's literature, Peter Cottontail is up to his long-whiskered nose in rib-tickling escapades in this delightful classic. With gentle charm and humor, famed storyteller Thornton W. Burgess draws young readers into the timeless world of the Green Forest, the Smiling Pool and the Purple Mountains.
Warmth and whimsy are the order of the day as Peter discovers the folly of changing his name, outwits the ever-hungry Reddy Fox, manages a number of hare's-breadth escapes and finally makes an ill-advised decision to hibernate-as Johnny Chuck and other woodland creatures do. The silliness of trying to do what nature never intended is one of the gentle morals of these adventures that combine the fun of a good story with little lessons about wildlife, the environment and being true to one's self.
Newly reset in large easy-to-read type, this unabridged childhood classic will delight young readers today just as it did their parents and grandparents.