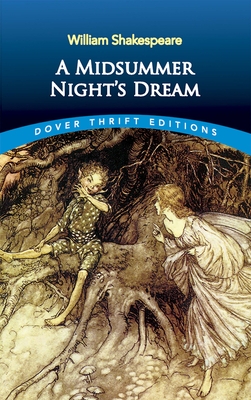 A Midsummer Night's Dream (Dover Thrift Editions) (Paperback)
Dover Publications, 9780486270678, 80pp.
Publication Date: February 21, 1992
Other Editions of This Title:
Paperback (12/2/2012)
Paperback (12/2/2012)
Paperback (12/2/2012)
Paperback (2/12/2010)
Paperback (4/4/2010)
Paperback (1/22/2015)
Paperback (7/13/2019)
Paperback (3/12/2018)
Paperback (5/20/2013)
Paperback (4/30/2016)
Paperback (7/28/2018)
Paperback (5/23/2016)
Paperback (5/13/2013)
Paperback (7/13/2019)
Paperback, Large Print (8/14/2008)
Paperback (12/31/2010)
Paperback (11/12/2005)
Paperback (6/23/2011)
* Individual store prices may vary.
Description
Among the most popular of all Shakespeare's comedies, this play humorously celebrates the vagaries of love. With its several pairs of lovers, on-again, off-again romances, magic spells, fairies, and a bumbling troupe of would-be actors, the play continues to enchant audiences. Unabridged reprint of an authoritative British edition, complete with explanatory footnotes.
About the Author
"He was not of an age, but for all time," declared Ben Jonson of his contemporary William Shakespeare (1564-1616). Jonson's praise is especially prescient, since at the turn of the 17th century Shakespeare was but one of many popular London playwrights and none of his dramas were printed in his lifetime. The reason so many of his works survive is because two of his actor friends, with the assistance of Jonson, assembled and published the First Folio edition of 1623.