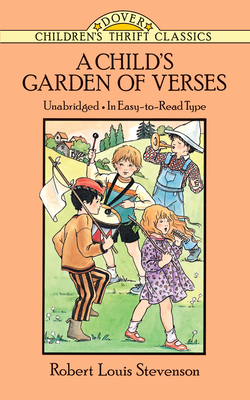 A Child's Garden of Verses (Dover Children's Thrift Classics) (Paperback)
Dover Publications, 9780486273013, 96pp.
Publication Date: September 30, 1992
Other Editions of This Title:
Paperback (1/2/2016)
Paperback (9/21/2017)
Paperback (7/11/2017)
Paperback (2/10/2019)
Paperback (7/23/2018)
Paperback (4/4/2010)
Paperback (6/16/2016)
Paperback (9/14/2017)
Paperback (3/18/2019)
Paperback (7/12/2018)
Paperback (3/27/2016)
Paperback (12/19/2018)
Paperback (2/10/2016)
Paperback (4/1/2009)
Paperback (4/6/2010)
Paperback (12/14/2015)
Paperback (10/6/2018)
Paperback (5/6/2019)
Paperback (3/25/2017)
Paperback (9/11/2012)
* Individual store prices may vary.
Description
Scottish novelist, poet and essayist Robert Louis Stevenson dedicated A Child's Garden ofVerses to Alison Cunningham, the nurse of his early childhood years in Edinburgh--a time whose essence he strove to recapture in the sixty-four poems of this long-treasured collection. Here, in "The Land of Counterpane" and "The Land of Nod," and in such delightful lyrics as "My Bed Is a Boat," "Autumn Fires" and "Windy Nights," are rhymes and images children and their parents have cherished together since A Child's Garden of Verses was first published in 1885.
Alternately humorous and whimsical, grave and fearful, courageous and determined, the poems touchingly voice the many moods and currents of a child's imaginings. All sixty-four poems are reprinted in this edition in large, easy-to-read type. New illustrations by Thea Kliros capture the magical spirit of this beloved classic of children's literature.
About the Author
Novelist, poet, and travel writer, Robert Louis Stevenson (1850-1894) wrote captivating tales for readers of all ages, including Treasure Island, Kidnapped, and The Strange Case of Dr. Jekyll and Mr. Hyde.