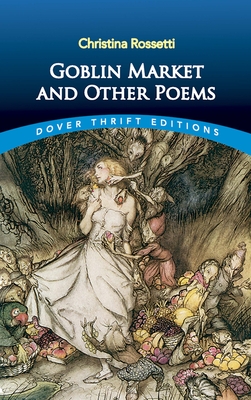 Goblin Market and Other Poems (Dover Thrift Editions) (Paperback)
Dover Publications, 9780486280554, 80pp.
Publication Date: May 20, 1994
Other Editions of This Title:
Paperback (7/30/2018)
Paperback (5/15/2015)
Paperback (5/10/2017)
* Individual store prices may vary.
Description
An important and often-quoted literary figure, the English poet Christina Rossetti (1830-1894) wrote some of the most beautiful and voluptuous poetry in the English language. Like Emily Dickinson, she lived in self-imposed isolation, writing of God and lost love with a sensuality and passion that seemed to emanate from the soul.
This edition of 53 works combines a number of her best-known sonnets, ballads, and shorter lyrics with her long masterpiece, the narrative fable Goblin Market. A haunting fairy tale in verse, Goblin Market was once labeled a children's poem, yet its intricate symbolism and themes of temptation, sin, and redemption mark it for an adult audience. Among other works included in this choice collection are "The Convent Threshold," "Up-hill," "Cousin Kate," "Winter: My Secret," "Maude Clare," "No, Thank You, John," and "After Death."