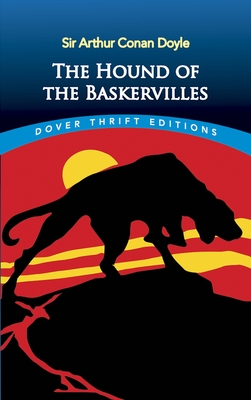 The Hound of the Baskervilles (Dover Thrift Editions)
Paperback

* Individual store prices may vary.
Other Editions of This Title:
Digital Audiobook (9/14/2014)
Digital Audiobook (11/22/2009)
Digital Audiobook (2/23/2008)
Digital Audiobook (1/3/2017)
Digital Audiobook (8/25/2020)
Digital Audiobook (8/28/2018)
Digital Audiobook (6/26/2017)
Digital Audiobook (12/23/2020)
Digital Audiobook (11/14/2007)
Digital Audiobook (8/19/2020)
Digital Audiobook (11/27/2019)
Paperback (2/15/2014)
Paperback (10/1/2015)
Paperback (7/5/2018)
Paperback (2/18/2016)
Paperback (7/21/2017)
Paperback (8/14/2019)
Description
At Baskerville Hall on the grim moors of Devonshire, a legendary curse has apparently claimed one more victim. Sir Charles Baskerville has been found dead. There are no signs of violence, but his face is hideously distorted with terror. Years earlier, a hound-like beast with blazing eyes and dripping jaws was reported to have torn out the throat of Hugo Baskerville. Has the spectral destroyer struck again? More important, is Sir Henry Baskerville, younger heir to the estate, now in danger?
Enter Sherlock Holmes, summoned to protect Sir Henry from the fate that has threatened the Baskerville family. As Holmes and Watson begin to investigate, a blood-chilling howl from the fog-shrouded edges of the great Grimpen Mire signals that the legendary hound of the Baskervilles is poised for yet another murderous attack.
The Hound of the Baskervilles first appeared as a serial in The Strand Magazine in 1901. By the time of its publication in book form eight months later, this brilliantly plotted, richly atmospheric detective story had already achieved the status of a classic. It has often been called the best detective story ever written. It remains a thrilling tale of suspense, must reading for every lover of detective fiction.
Dover Publications, 9780486282145, 128pp.
Publication Date: October 21, 1994
About the Author
Arthur Conan Doyle was a prolific writer born in Scotland who started out as a medical doctor. While at the University of Edinburgh, he augmented his income by writing stories. His first Sherlock Holmes tale was published in 1887, introducing one of literature's best-loved detectives. Doyle has also written many works of history and science fiction, plus plays and poetry.