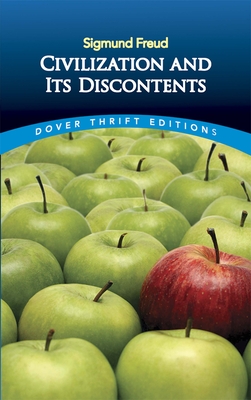 Civilization and Its Discontents (Dover Thrift Editions) (Paperback)
Dover Publications, 9780486282534, 80pp.
Publication Date: June 20, 2016
Other Editions of This Title:
Digital Audiobook (5/31/2011)
Paperback (7/1/2016)
Paperback (8/22/2013)
Paperback (6/9/2018)
Paperback, Chinese (8/6/2014)
Paperback (3/22/2013)
Paperback (9/11/2013)
Paperback (1/1/2018)
Paperback, Chinese (8/9/2014)
Paperback (8/9/2010)
Hardcover (1/1/2018)
Hardcover (1/17/2005)
Paperback (7/19/2010)
Paperback (2/5/2010)
Paperback (9/14/2011)
Paperback (10/18/2010)
Paperback (1/22/2011)
Compact Disc (6/1/2011)
MP3 CD (6/1/2011)
* Individual store prices may vary.
Description
The struggle between the urgencies of instinct and the restrictions of civilization is addressed throughout the works of Sigmund Freud, and in Civilization and Its Discontents the theme is developed with particular richness and depth. This famous study explores the guilt that arises when personal desires clash with social norms, and it examines attempts to reconcile the conflict.
In a sense, such guilt is among civilization's building blocks, keeping aggressive and selfish instincts within bounds. But it can also be a source of great frustration, and Freud examines at length many ways of dealing with guilt, from artistic and scientific pursuits to abuse of drink and drugs. The great psychologist offers revealing insights into the motivation behind human behavior as well as the evolution of many social institutions. This seminal study reveals the struggles to resolve conflicts and cast off guilt as spurs to the growth of civilization and culture.
About the Author
The Father of Psychoanalysis, Sigmund Freud (1856-1939) ranks among the most important figures in Western psychology. He is responsible for the theories of parapraxis (Freudian slips), dreams as wish fulfillment, the Oedipus complex, repression, the unconscious mind, and other concepts.