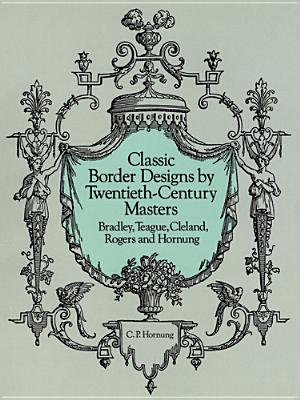 Classic Border Designs by Twentieth-Century Masters (Paperback)
Bradley, Teague, Cleland, Rogers and Hornung (Dover Pictorial Archives)
Dover Publications, 9780486285184, 132pp.
Publication Date: November 30, 2011
* Individual store prices may vary.
Description
Five of the most outstanding American graphic artists of the 20th century are represented in this generous collection of border designs -- a splendid resource for commercial artists, book designers, and illustrators, and a book that all enthusiasts of classic design will enjoy. The style of each artist is quite distinctive, yet they all share great flair for designing in the classical style, as this collection amply proves.
Thomas Cleland was a book and typography designer who created ads for the Pierce-Arrow automobile and originated the formats for Newsweek and Fortune magazines. The celebrated Bruce Rogers designed some of the most beautiful books of the 20th century. Walter Dorwin Teague created the famed Arrow Collar ads (the figures were by J. C. Leyendecker) and others for Murad Turkish cigarettes, the Locomobile, and Phoenix Hosiery. Clarence Hornung's designs range from airy rococo embellishments to elegant menu designs for one of America's most popular passenger trains, the Twentieth Century Limited. Throughout his long life, Will Bradley (1868-1962) created many memorable posters, ads, book designs, and magazine covers.